Philando Castile's mother supports Justine Damond's family at march in Minneapolis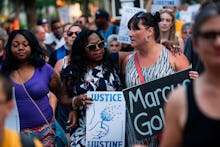 On Thursday, hundreds of people rallied in honor of Justine Damond, an Australian-born woman fatally shot by a Minneapolis police officer.
Valerie Castile, whose son Philando was fatally shot by a local police officer, was among those marching for justice in Damond's neighborhood.
Damond reportedly called 911 for a suspected assault in her neighborhood late Saturday. As Damond approached the driver's side window of the Minneapolis police car, Officer Mohamed Noor fatally shot her. At the march, Valerie Castile, accompanied by John Thompson, Philando's best friend, comforted Damond's fiance and his family by offering support for them and the community.
"We're just here to support the family," she told CBS Minnesota. "That's all."
Protesters chanted phrases heard commonly throughout Black Lives Matter rallies. Among them were: "No justice. No peace. Prosecute the police" and "The people united will never be defeated."
"This is not about one police officer," Sarah Kuhnen, one of Damond's neighbors, said. "It is past time for me and other white people to wake up."
Nekima Levy-Pounds, who is running for mayor of Minneapolis, also spoke at the rally. She encouraged attendees to show concern even when the "victims don't look like yourself," while also saying calls for change in treatment of minority citizens by police have not been addressed.
"We're at the place where we can no longer ignore the truth," she said. "It is staring us in the face."
The marchers, aside from calling on each other to be more aware, also had a few demands. They asked for Noor to be fired if he refuses to talk to the Bureau of Criminal Apprehension, that he be prosecuted for the shooting, and that the dashcam footage of the incident be released.
Damond's family is hoping to return her body to Australia. They have also recently hired Bob Bennett, the same attorney who represented the Castile family, to represent them.