While You Weren't Looking: 5 stories from the week not birthed out of Trump's wild Oval Office chat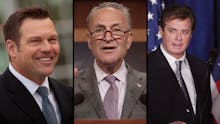 This week was rocked by a roller coaster of breaking news, from the ongoing health care debate, to the announcement that Sen. John McCain (R-Ariz.) has brain cancer, to Trump's wild and winding interview with the New York Times.
Here are five important stories from all those tabs you opened on your desktop browser, but never circled back to.
Manafort is back in the hot seat
Just months before former Trump campaign chairman Paul Manafort took a pro-bono job working for Trump's 2016 campaign, he filed papers with a Cyprus bank showing he owed $17 million to pro-Russian interests.
According to the New York Times, the debts were held in shell companies owned by Manafort. A spokesperson for the political operative did not deny the validity of the documents but claimed that his client was not in debt by the time he began working for Trump.
A separate report from the Wall Street Journal this week also claimed that Manafort is now being investigated by Russia investigation special counsel Robert Mueller for potential money laundering.
Democrats finally roll out an agenda
After taking heavy criticism from their base for espousing a narrow focus that seemed only interested in opposing Trump, Democrats announced plans to roll out an agenda. The forthcoming manifesto is said to emphasize progressive economic policy over social and foreign policy.
The decision is sure to upset some in the Democratic base who think that social and racial justice should be at the forefront of the Democratic agenda. Its endorsement of economic positions that are already widely associated with the Democratic party is also unlikely to excite anyone hoping for a more economically populist message.
White House kicks off "voter fraud panel"
This week, Trump introduced the first meeting of his highly controversial voter fraud panel and began the meeting by insinuating that state governments are complicit in voter fraud.
"If any state does not want to share this information, one has to wonder what they're worried about," Trump said. "And I asked the vice president, I asked the commission, 'What are they worried about?' There's something. There always is."
In late June, the panel vice chair Kris Kobach put out a request for sensitive voter data from states across the country, which was rebuked by Democratic and Republican state governments alike.
Russian official says U.S.-Russia joint cybersecurity task force still be on the table
Over the weekend, Trump tweeted that he had spoken with Russian President Vladimir Putin about starting a joint cybersecurity task force. Observers from across the political spectrum immediately took issue with the idea of partnering on cybersecurity with the nation widely believed to have hacked the Democratic party during the 2016 election, and Trump quickly backtracked.
But on Thursday, an official in Putin's government told a Russian news network that they were still in communication with the White House about the task force; the White House has yet to comment publicly about this claim.
Government watchdog group will gain access to Mar-a-Lago guest list
Government watchdog group Citizens for Responsibility and Ethics won a minor court decision that forces the Trump administration to turn over the visitors logs to Trump's Florida residence, Mar-a-Lago.
The victory came as part of a larger suit over the Trump administration's alleged conflicts of interest.
CREW announced that they plan to release the logs to the public as soon as they receive them.