How big is the 'Destiny 2' open beta? Here' s what the free PS4 and Xbox One demo has to offer.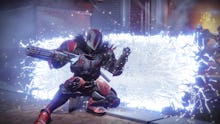 With the Destiny 2 beta going open on PS4 and Xbox One on Friday, new players who haven't kept up with all the hubbub might want to know exactly what they're getting with this free chunk of Destiny 2. After all, the beta for Destiny back in 2014 featured a pretty remarkable amount of content for a free demo.
Compared to its predecessor, how big is the Destiny 2 beta? Short answer: Not very.
How big is Destiny 2 open beta: It's tantalizingly small
As the trailer above reveals, Destiny 2's beta doesn't have a ton in the way of content. It's a small, free taste of what the final game will offer, but is missing some key features. You get to play the first campaign mission, a new strike and competitive multiplayer. That's it.
You do not get a look at the new open world areas and the new social space called The Farm, which will only be open for an hour on the last day of the beta. Presumably you'll be able to jump on top of things and dance like in The Tower in Destiny. If not, Bungie seriously failed.
Yeah, it's not a huge beta by any means. That said, you're not paying anything for it, so no use complaining. Destiny 2 is still set to officially launch on Sept. 6.
More Destiny 2 news and updates
If you can't wait to get back out on patrol with your Fireteam, check out the rest of our coverage for Destiny 2. We've got coverage about why Bungie opted not to use dedicated servers for the sequel, why there won't be cross-play and cross-saves for PC and what you can expect from the game's PC specs and Battle.net partnership. Additionally, you can check out the new Supers being added to the game, some details behind guided games and the new Crucible changes as well. Finally, you can check out our ongoing coverageof the beta here.