'RBI Baseball 17' Nintendo Switch Release Date: The console gets a mediocre baseball game soon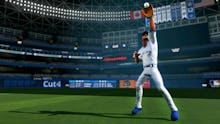 The Nintendo Switch is getting another sports title added to its library, albeit a sub-par one. R.B.I. Baseball 17 will arrive on September 5 at a cost of $30 for the Nintendo Switch. While it's good to see a version of America's pastime available on the console, it should come as no surprise that the game headed to the Switch is mediocre at best.
R.B.I. Baseball 17 is already available on PlayStation 4 and Xbox One, and it is one of the worst sports games available for this generation of consoles. It's almost an exact replica of R.B.I. Baseball 16, which wasn't impressive.
The latest version released on March 29, but it still doesn't have the requisite four respected reviews to generate a score on Metacritic. However, the highest review score of the two listed is a 40 out of 100. The other score is a 10. Here's a look at my video review of R.B.I. Baseball 17 and you'll get an opportunity to see the game in action.
RBI Baseball Nintendo Switch: Why you should be wary
The game is designed to be a pick-up-and-play, arcade baseball game that hearkens back to the series' retro style. Unfortunately, on PS4 and XB1, it fails to capture the charm or to supply the necessary depth for today's market. It stands to reason the Nintendo Switch version will carry the same issues, but we'll see.
This type of addition has become typical for the Switch. The console is brilliantly designed and conceptually fantastic, but if you're a sports gamer, it's hard to come away overly impressed.
The console released with no sports games available at launch and up to now the only thing close to a Triple-A title that has been released is NBA Playgrounds, and it didn't allow online play until early July after the feature was promised at release in May.
NBA 2K18, FIFA 18 and WWE 2K18 are coming, but FIFA will be a stripped-down version of what PS4 and XB1 users receive, and another (WWE 2K) will release later than it does on the competitor's console, and we don't know if the feature set will match.
If you're just starving for baseball or any sports game you can play on the Switch while you travel, then this is great news for you. You can get RBI Baseball 17 on Switch on Sept. 5.
More sports gaming news and updates
Love sports games? Check out more content from Mic, including tips for leveling up your NBA 2K17 MyPlayer, playing quarterback in Madden 17, our review of MLB The Show 17 and the classic Nintendo sports games we want to see on the Switch.