Mentally ill prisoners in Louisiana were made to bark like dogs for food, new lawsuit claims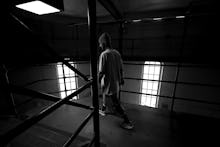 A lawsuit filed Thursday alleges that when investigators with a mental health advocacy group showed up for a tour of David Wade Correctional Center in Louisiana, they found out that they wouldn't be speaking to inmates. They wouldn't even speak with staff. Everyone had been instructed not to answer the investigators' questions.
One of the lawyers from New Orleans, Katie Schwartzmann, handed a piece of paper with her name on it to an inmate. The staff took it away.
"Some inmates pleaded for help, others asked questions, some shouted," the lawsuit said. "At no time during any of these exchanges did any inmate express any threatening or disruptive intent; they simply wanted to speak with the investigators."
The investigators were there to look into allegations of "serious abuse" against incarcerated mentally ill individuals, and the New Orleans-based Advocacy Center filed the federal lawsuit on Thursday to get back into the jail and look into the claims.
Reports to the Advocacy Center said that disabled people who are incarcerated at David Wade Correctional Center have been beaten, slapped, kicked, stripped of their clothing in the winter and sprayed with mace and bleach. One report to the center said that disabled inmates were made to bark like dogs for food.
"The department doesn't comment on pending litigation," an official with the Department of Public Safety and Corrections said by phone on Friday.
In the United States, prison is often a shortcut used to deal with the mentally ill instead of finding them adequate treatment. A 2015 report found that the number of mentally ill incarcerated people is 10 times the state psychiatric hospital population.