How the messy New York City subways are hurting vulnerable New Yorkers the most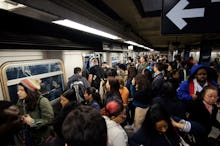 Maria Tudela has worked as a cleaner in the same building in Midtown Manhattan for the past five years, starting her shift at 5:30 p.m. and working until 1:15 in the morning.
It used to take her about 40 minutes to get to her home in Jackson Heights, Queens, but in the past few months, she says, subway service has become increasingly unreliable. Now, it takes hours for her to get home, and she's even been forced to walk across the 59th Street Bridge at 2 a.m. just to catch a train that will take her home.
Speaking through a translator on a phone call on Thursday, Tudela said she now gets anxious every workday, thinking about how she will get home.
Tudela is a causality of the increasingly overcrowded and unpredictable service that has plagued one of the busiest subway systems in the world for the last several months.
The problems, while they affect Metropolitan Transit Authority riders all over the city, are hardest on vulnerable New Yorkers who desperately need reliable mass transit in order to get by.
This mess of overcrowded trains and subway delays — catalyst in what New York Gov. Andrew Cuomo has dubbed the "summer of hell," — is, in part, a spillover from the repairs being made on commuter rail tracks in New York's Penn Station, repairs that are supposed to last from July 10 to Sept. 1.
However, subway delays, crowded trains and derailments are just symptoms of a more complicated and longstanding issue that dates back much earlier than this summer. As Vox reported this month, the current subway mess is also due to the MTA's failure to adjust schedules to keep with regulations that created more slowdowns.
According to Scott Bernstein, the founder of the Center for Neighborhood Technology, an urban planning research and advocacy group, the current state of the MTA is the result of a confluence of factors, including historical underfunding, urban sprawl and competition with new forms of transportation like Uber and Lyft.
"All of that adds up to a system that, for the last couple of decades, has been suffering," Bernstein said in a phone interview Friday. "We're seeing it now in the drop-off in service."
In short, as the New York Times reported in June, the city's subways are on the decline. As Clarence Eckerson, the director of the NYC transit-themed video series Streetfilms, said in an email on Friday, "the real complexities of how the MTA is running these days is so complicated," its causes can't easily be summed up.
Cuomo officially declared a state of emergency for the MTA in June, promising $1 billion to address the issues, but he and New York City Mayor de Blasio have sparred over who is responsible for the subway's "dismal condition," as the Times termed it.
For Eckerson, who, like Tudela, lives in Jackson Heights, the dysfunction is apparent. "Jackson Heights is a working-class community and many people near the poverty line work here," Eckerson said.
"They rely on transit to get into the city to work demanding hourly wage jobs in the service industry in Manhattan. The rare occasion I am on a train weekdays around rush hour (maybe once or twice per month now) I see frustration and dangerous overcrowding every single time. I can't imagine doing it regularly."
For Danna Dennis, a home health aide who has to travel from her home in Crown Heights, Brooklyn, to eldercare placements all around the New York City area, subway delays are a fact of life.
"In early June, or late May, there was a big delay for the Q train one morning," Dennis said in a phone interview Friday. She was trying to get to a client's home in Sheepshead Bay, a neighborhood at Brooklyn's southern tip.
"I was on the platform for an hour and a half ... it took me almost two hours to get to work," Dennis said. That meant she lost two hours worth of wages. "That money can go really far for me, it can go towards my phone bills, student loans, rent to pay," she said.
Not only did the delay affect Dennis, it also affected her client at the time. "An hour and a half of me not being there throws off everything," she said. "It throws off his medication, his breakfast routine ... for people with Alzheimer's and dementia, routine is very important."
Dennis, a member of Riders Alliance, a grassroots organization that advocates for the rights of subway riders, said that the steps the MTA takes to help workers during delays just aren't enough.
The subway does offer "late notes" for employees to give to their supervisors, but, Dennis said, "What does that really do, that note is not going to get my money back."
The numbers back up the reality that poor service hurts New York's most vulnerable residents the most. A survey this month from the city comptroller's office found that subway delays have directly caused 74% of respondents to be late for a work meeting, 18% to be reprimanded and 13% to lose wages — 2% of respondents said they had been fired because of subway delays.
The report also found that residents of lower-income zip codes, where average incomes were below $62,150 for a three-person household, were 14% more likely to be reprimanded at work because of subway delays than people from higher-income zip codes. Residents of lower-income zip codes were also 4% more likely to lose wages because of subway delays.
"In short, the most vulnerable New Yorkers appear to also be the most vulnerable to erratic subway service," the report concluded.
Tudela said her commute issues began about six months ago, but have gotten noticeably worse in recent weeks. One night, she said, she was waiting for the N train at the Lexington Ave. and 59th St. station when an MTA employee came and announced that there wouldn't be anymore trains.
That was one of the nights, Tudela said, when she walked home to Queens. Tudela said she doesn't feel safe when she gets out of work, and now that it often takes her two and a half hours to get home, she's having trouble sleeping.
"They do need to fix the trains," Tudela said. "They need to be considerate of the many people who are working at night."