3 things to know about Anthony Scaramucci, the new White House communications director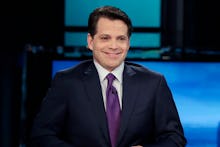 On Thursday, the White House named Anthony Scaramucci the new White House communications director. The move comes just as White House press secretary Sean Spicer resigned, reportedly a reaction to Scaramucci's hiring, and signaled a broader shift in the White House's communication strategy.
The news has reportedly managed to upset multiple factions within the Trump administration. The president's top political strategist Steve Bannon as well as Chief of Staff Reince Priebus were said to be caught off guard by the hiring decision.
So just who is Anthony Scaramucci? Here are three things you need to know about the new man in the White House press operation.
He's a well-known hedge fund manager who goes by "the Mooch"
Scaramucci is well known in the finance community as the founder and co-manager of SkyBridge Capital — a hedge fund that funds other hedge funds. Scaramucci sold his share in SkyBridge in January in preparation for joining the Trump administration.
He's known to many on Wall Street by the nickname "the Mooch" and was named "Wall Streeter of Year" by Yahoo Finance in 2016.
Perhaps his most famous Wall Street moment came in 2010 when he implored then-President Barack Obama during a town hall to "stop whacking at the Wall Street piñata."
He used to be team #NeverTrump
During the Republican primary for the 2016 election, Scaramucci lambasted then-candidate Donald Trump during an appearance on the Fox Business channel. Scaramucci called Trump a "hack politician," for his position on taxing hedge fund managers.
In that same appearance Scaramucci also called Trump "anti-American," "very divisive" and said the only thing he would be president of would be the "Queens County bullies association."
Scaramucci had thrown his support behind Wisconsin Gov. Scott Walker's short-lived presidential campaign.
His name has been floated for a number of Trump administration gigs
Scaramucci had been considered for several other roles by the Trump since taking office, but has been stuck in limbo for months.
At first, Scaramucci was in consideration for director of the Office of Public Engagement and Intergovernmental Affairs, a role held by the influential Valarie Jarrett during the Obama administration. But Priebus who is reportedly not a Scaramucci fan, asked him to take his name out of the running after his ethics agreement took too long to complete.
Scaramucci was then rumored to be in talks for ambassador to the Paris-based Organization for Economic Co-operation and Development. But after that appointment failed to reach fruition, he was named to a top position at the Export-Import Bank in late June.