'Injustice 2' Black Manta DLC Release Date: Who will be the next fighter to come after Starfire?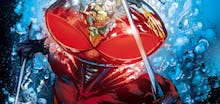 Though none of the characters from the second Injustice 2 Fighter Pack have been officially confirmed, a teaser before the game's release hinted at Aquaman foe Black Manta joining the fray. Thanks to a Reddit post, it seems like Black Manta's inclusion is all but official, WWG reported.
With Starfire's arrival quickly approaching, it's about time for NetherRealm Studios to start talking about the Fighter Pack 2 DLC for Injustice 2. Starfire's addition to the roster will round out Fighter Pack 1, which also included Red Hood and Sub-Zero.
Injustice 2 DLC: Black Manta teased by Xbox Live store error
Reddit user iixfinityii posted this photo without much additional context. Apparently, a panel on the Xbox Live store accidentally revealed Black Manta would be coming to Injustice 2 early, though there's no accompanying photo in the panel. All we get is text today, unfortunately.
We've had a pretty good idea for a while that Black Manta is coming to the game at some point, so this isn't horribly surprising. Seeing as how this is an accidental leak and not an official announcement, there are no screenshots or video, nor is there any information about when he'll show up.
If you're a big Aquaman fan, this is probably pretty good news for you. Hopefully that funny helmet of his doesn't get in the way of his combat skills.
More gaming news and updates
Check out the latest from Mic, like this deep dive into the cultural origins of Gamergate. Also, be sure to read this essay about what it's like to cosplay while black, a roundup of family-friendly games to play with your kids and our interview with Adi Shankar, producer of the animated Castlevania Netflix series.