'Dream Daddy' glitch causes Joseph's demon twins to follow you around forever — and it's horrifying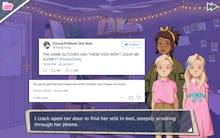 Dream Daddy, the new dad dating simulator on Steam, is usually a total delight — with one exception. Any time you have to interact with Joseph's pastel-clad demon children — who, at one point, literally maul a baby's stuffed capybara — you're sure to get a shiver down your spine.
And now, there seems to be a glitch that causes Joseph's worst offspring — his The Shining-esque twins — to follow you around from scene to scene where they decidedly do not belong. Some players already suspect there's something demonic going on with Joseph's family, so this is not helping quell those fears.
Dream Daddy glitch: "These evil white children won't leave me alone"
Needless to say, Dream Daddy players are horrified.
It's not clear exactly what triggers this so-called glitch, but we've reached out to the Dream Daddy team for any exorcism tips they might have.
More gaming news and updates
Check out the latest from Mic, like this deep dive into the cultural origins of Gamergate. Also, be sure to read this essay about what it's like to cosplay while black, a roundup of family-friendly games to play with your kids and our interview with Adi Shankar, producer of the animated Castlevania Netflix series.