Is Sean Spicer the shortest-serving White House press secretary in history?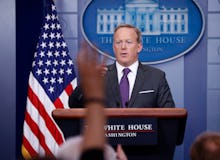 News that Sean Spicer stepped down from his position as White House press secretary on Friday — and with former deputy secretary Sarah Huckabee Sanders to take over the post — filled the hearts of his opponents with a certain schadenfreude. Not only had Spicer's time in President Donald Trump's cabinet been punctuated with more than its fair share of blunders, but it also seemed almost insultingly short.
Spicer is in good company, though: While his six-month tenure situates him among some of the shortest-serving press secretaries and cabinet members in the history of the White House, several others have had their terms cut even shorter for one reason or another.
This list naturally includes Spicer's former colleague, Michael Flynn, who served just 24 days in the Trump administration as national security adviser before resigning in February following revelations about his contact with the Russian ambassador to the United States. Flynn's resignation would be the first in a rather long line of casualties within the Trump White House, which has earned the administration a reputation for in-fighting and dysfunction.
As for press secretaries, Spicer outlasted Jonathan W. Daniels, who served as press secretary to Franklin D. Roosevelt for 47 days in 1945. Daniels left his post after Roosevelt's death, going on to be an adviser to President Harry Truman.
Others have served tenures of comparable length: According to NBC News, Robert Bacon served as secretary state for 38 days under Theodore Roosevelt in 1909, while Andrew Johnson, who served as vice president for just 43 days in 1865. Of course, Johnson's tenure only ended prematurely because of Abraham Lincoln's assassination, after which time he became president.
Much later, Lawrence Eagleburger served as secretary of state under George H. W. Bush for just 42 days between 1992 and 1993. Eagleburger had previously served for five months as acting secretary of state, but hadn't been confirmed until Bush lost his re-election campaign to Bill Clinton. Eagleburger served the remainder of Bush's term, up until Clinton's inauguration.
On the lower end of the spectrum, there are cabinet members who have barely served a dozen days in their position.
Thomas W. Gilmer, who's earned the distinction of being the shortest-serving cabinet member in White House history, spent just 10 days as secretary of the Navy under President John Tyler. Gilmer, along with Secretary of State Abel P. Upshur, died on Feb. 28, 1844 in an explosion aboard a naval ship.
In the same range, there's Elihu Benjamin Washburne, Ulysses S. Grant's secretary of state, who served 11 days in his post. Washburne's role was mostly a symbolic gesture — according to the Office of the Historian, Grant's appointment was a "personal yet temporary means to honor" Washburne while he restructured his cabinet. Washburne's successor, Hamilton Fish, took over on March 16, 1869.
The New York Times' report suggests Spicer's run didn't end on the best of terms. According to the outlet, Spicer was strongly opposed to Trump's appointment of New York financier Anthony Scaramucci, who took over as communications director on Friday.