Sarah Huckabee Sanders named White House press secretary after Sean Spicer's resignation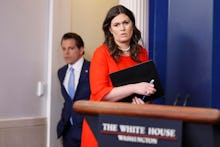 Sarah Huckabee Sanders was named White House press secretary Friday afternoon, a post she will take over from Sean Spicer, who tendered his resignation Friday morning.
The news was announced by New York financier Anthony Scaramucci, who was named White House communications director on Friday.
Huckabee Sanders — daughter of former Arkansas Gov. Mike Huckabee — has been the face of the White House press shop since May, when Spicer stepped back from his on-camera briefing role.
The shakeup in the White House communications shop comes just six months and a day after Trump's swearing-in.
Trump's decision to bring on Scaramucci as communications director is what led Spicer to resign, the New York Times reported. However both parties insisted there is no bad blood between them.
Scaramucci praised Spicer during a Friday White House press briefing, calling him a "true American patriot [who has] done a great job."
"I hope he goes on to make a tremendous amount of money," Scaramucci said.
Spicer — who will serve through August — said his decision to leave was out of a desire to give Scaramucci a "clean slate."
Spicer's tenure began with a bang — coming out to falsely claim that Trump had the largest inauguration crowd ever. But he went out with a whimper, stepping back from his on-camera sparring sessions with the media at the end of May following Trump's first foreign trip.
Spicer is set to appear on Sean Hannity's Fox News show Friday night.