What does Sean Spicer's resignation mean for the rest of Trump's inner circle?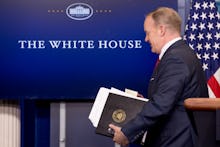 And with that, Sean Spicer takes his leave.
The combative press secretary resigned his post Friday after six months as the primary mouthpiece for the White House — reportedly because he objected to President Donald Trump's decision to tap hedge fund manager Anthony "the Mooch" Scaramucci as his communications director. In doing so, he became the most high profile administration official to call it quits who was not forced to because of scandal.
It's unclear what this will mean for the Trump administration as a whole, other than the fact that we'll be seeing a lot more Sarah Huckabee Sanders. But there has already been some chatter among political prognosticators that Spicer's departure could portend more shakeups to come.
White House Chief of Staff Reince Priebus, for one, is rumored to be feeling the heat after the resignation. Priebus, like Spicer, had reportedly objected to Scaramucci's appointment, and a White House source told the New York Post that the administration is hoping the chief of staff — whom Trump reportedly "blames" for Spicer's hiring in the first place — will resign.
Neither he nor chief strategist Steve Bannon, were apparently consulted in the decision to hire Scaramucci, a Fox Business Network contributor, according to Fox News.
In Bannon's case, that's hardly surprising.
Once dubbed "President Bannon" for the outsized influence he wielded in the administration, the shadowy former Breitbart head has been laying low recently, Politico reported Friday.
Bannon — who also opposed Scaramucci's appointment, and whom Trump reportedly "resents" for "stealing credit" for his unlikely win in the 2016 election in his eyes — has been noticeably absent from major policy discussions, Politico reported, apparently holing up with Priebus in his office as part of a "self-imposed exile" to hang onto his job.
"He doesn't look well," a source told Politico of Bannon.
Things haven't been going great for Trump. He arrived at the six-month mark of his presidency this week fresh off yet another stinging health care defeat, his most significant legislative promises still unfulfilled and drowning in an ongoing Russia scandal.
Rumors that a shake-up is coming in August have been swirling since at least May, just after he fired FBI Director James Comey, who was investigating potential links between the Trump campaign and Russian government. Axios reported at the time that Trump was "frustrated, and angry with everyone," and that Spicer, Priebus and Bannon were all on the chopping block. He was also reportedly frustrated with Commerce Secretary Wilbur Ross, Health and Human Services Secretary Tom Price and Attorney General Jeff Sessions.
He had scorching comments for the latter during a wide-ranging New York Times interview this week, calling Sessions' decision to recuse himself from matters relating to the Russia investigation "extremely unfair" to him.
"Sessions should have never recused himself, and if he was going to recuse himself, he should have told me before he took the job, and I would have picked somebody else," Trump said. "It's extremely unfair, and that's a mild word, to the president."
Sessions said Thursday he has no intention of surrendering his post.
According to Politico, Trump will likely decide whether to go through with the end-of-summer shake-up while he's on vacation in August.
But there are signs that it may already be happening.
Last Saturday, the White House hired former federal prosecutor Ty Cobb — a relative of the baseball great — to take the lead in administration's legal response to the Russia investigations, apparently demoting Trump's fiery lawyer Marc Kasowitz. Then, on Friday, Mark Corallo — the spokesman for Trump's legal team — threw in the towel, reportedly upset with the president's attacks on special counsel Robert Mueller and the fact that there was "too much fighting all the time" in Trump's White House.
Scaramucci's hire — the purported reason for Spicer's departure — was reportedly supported by Trump's daughter Ivanka and her husband Jared Kushner, both advisers to the president.
Huckabee Sanders — who had already been handling on-camera press briefings at the White House — has assumed the Spicer's position as press secretary, it was announced Friday.