From free drinks to $3,000 in travel credits, here's how to get compensated for flight issues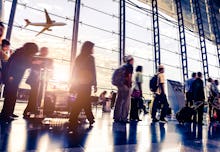 Chronic overbooking and other controversies may have rocked the airline industry this year, but that doesn't mean that flight attendants or desk agents deserve to bear the brunt of your travel frustrations.
As we all know, flights get delayed, delayed again, stuck on the runway or straight-up canceled. There are only so many things you can do as a disgruntled customer when faced with unpredictability and inconvenience. The most common responses tend to be impractical (going on a Twitter rant like Ann Coulter after getting reassigned to a seat with smaller legroom), rude (cursing out the desk agent) and pointless (sobbing until your demands are met).
We asked airline employees about how domestic and international airlines make up for bad flights — and how you can have the best possible experience. We identified these industry veterans by first name to allow them to speak freely.
Before your flight
Look at the weather
Impending snowstorm? If the airport isn't used to clearing snow, you could expect delays or worse, cancellations. The fix: consider rearranging your plans so you'll avoid weather-related delays.
"You can change without penalty," Bernie, a customer service representative from a major domestic airline, said in a phone interview. Downloading an airline's app or signing up for text alerts will ensure you're in the loop about weather issues — and make it easier for you to re-book at no cost if necessary.
Plan ahead for big life events
"It's disappointing when you see people going to special events and leaving no time for error," Bernie said. Maintenance issues, weather and other problems could result in delays — and no amount of travel credit will make up for missing out on your cruise, a family reunion or celebration. Bernie recalled one time where a woman booked a Saturday morning flight to her son's wedding, which was occurring that afternoon. (She missed the flight and was late to the wedding.)
Use Twitter
The social media platform is actually quite useful for efficient customer service from airlines — whether you need to check on a delayed flight, reschedule due to weather or track down something you left aboard a recent flight.
"Our representatives who assist our customers over Twitter and Facebook have the same tools as our representatives who provide service over the telephone and email," Rob Hahn, Southwest Airlines' business consultant for Social Customer Care, said in an email, explaining that Southwest is "unable to compensate for events that are out of our control" but the company can often provide passengers with some form of travel credit based on their inconvenience.
Be sure to have a confirmation number or frequent flyer number at the ready, and then go ahead and direct message the airline if their DMs are open. If you tweet at them, they'll often follow you so you can DM and begin communicating privately.
Know the limitations
Every situation is different, and airlines treat situations that are outside of their control — like weather delays — significantly differently than maintenance issues. Domestic airlines are legally required to compensate travelers whose flight has been overbooked and they're involuntarily bumped to a later flight. The amount of compensation depends on a few factors — like whether you've been rebooked and how many hours after your expected arrival you actually land. If you arrive over two hours after your expected arrival after getting bumped from a domestic flight, you could be owed up to $1,350.
And when maintenance issues occur, you might be offered travel credits. "We had a flight to San Francisco and originally it was 25 first-class seats," Bernie said. When 10 of those seats had to be given up due the carrier switching to a smaller plane, he offered passengers a $3,000 travel credit. "We have to make it attractive — where people are not upset because of a situation," Bernie said, noting he strives for a "win-win" situation.
Dress nicely
Dressing to impress can pay off big time because desk agents are more likely to choose you for an upgrade if you look put-together.
"On an oversold flight, we can definitely move someone up to first class, and yes, the better dressed you are, the more likely you are to nab that seat," an anonymous airline desk agent told George Hobica of Airfarewatchdog.com. "I am not going to put someone wearing flip flops up front with our best customers." The desk agent added that the patience and courtesy — the gold standard for customer behavior — can also help travelers get in a desk agent's good graces.
During your flight
Bring a small token of appreciation for the flight attendants
"Chocolate goes a long way!" Jen, who has worked a a flight attendant for three and a half years, said in an email. "I've had passengers bring bagels, bags of candy, or even Starbucks gift cards for each of the crew members. It doesn't have to be a lot."
And you never know when some good karma will come back your way. "We've gotten a lot of tools now with WiFi on board to check on flight information and help passengers who may miss their connection," Jen said. "I do reach out to crews if my friends are passengers on their flights so that they can keep a special eye on them."
Sydney, who has worked as a flight attendant for two years, agreed that small gifts make flight attendants extra appreciative of a traveler. It "doesn't have to be fancy," she said. "Nine times out of 10, we will find you and give you a free cocktail or more. You scratch our back, we'll scratch yours."
Take off your headphones
No matter how good your podcast or in-flight movie is, you should remove your headphones when a flight attendant is passing you during beverage service or whenever a flight attendant is trying to talk to you.
"If I come up to your row either during a beverage service or if you've rung your call button and you don't remove your headphones so you can hear me clearly, that comes across as rude," Jen said. "I shouldn't have to shout and repeat myself four times to be heard over your blaring music or your movie."
If you want extra snacks or drinks, there's a right way to ask
Asking for water or snacks during the boarding process is a no-no because flight attendants have a lot of responsibilities at that time, according to Sydney. They also typically can't give out extras during regular beverage service because they're trying to do it as fast as possible.
But there are other times where politely asking for extra food and drink is okay, Sydney noted. "If you want more drinks, come to the back and you can ask for whatever you want. We will give it to you gladly!"
After your flight
Accepting travel credit vouchers means you can't claim compensation later
"Flight delay vouchers are not what they seem," Scott Ginsberg, brand manager for AirHelp, a free site helping passengers secure compensation from airlines, said in an email. "The airline regulations clearly state that compensation should be paid in cash, electronic transfer or checks, unless the passenger chooses to accept travel vouchers instead."
"8 million people around the world are eligible for compensation, less than 2% will ever claim the money they're entitled to" - Scott Ginsberg, AirHelp
The vouchers — whether for in-flight meals or miles — are cost-effective for airlines, but passengers might be "entitled to a larger sum," Ginsberg said. "Many people are entitled to hundreds of dollars for disruptions and end up accepting a lesser value reward without realizing it. AirHelp's data estimates that even though 8 million people around the world are eligible for compensation, less than 2% will ever claim the money they're entitled to," Ginsberg said, noting that you can submit a claim up to three years after a flight. Passengers can submit claims on AirHelp, which can tell you whether you're eligible for compensation.
If your bag is damaged, keep your boarding pass and checked luggage receipt
Whether your bags got damaged during your flight or they're lost, it's imperative to keep records of your flight and baggage.
"Report the damage before leaving the airport after receiving your bags," Ginsberg said. This entails filling out a claim report with the airline and presenting the damaged bags for inspection by the airline.
Don't throw away receipts to replace lost clothing or items
Bag lost? If you had to purchase a lot of items to replace the contents of your luggage, don't toss those receipts.
"Airlines may be able to reimburse you," Ginsberg said. "Documentation makes it easier to seek compensation, so don't throw anything away until you've successfully completed your flight."