Report: Jeff Sessions talked about matters related to the Trump campaign with Russian ambassador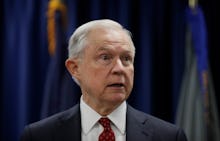 U.S. intelligence officials intercepted phone conversations between Russian ambassador Sergey Kislyak and his bosses in Moscow that blow holes in Attorney General Jeff Sessions' strong denials that he and Kislyak had any conversations regarding President Donald Trump's campaign, the Washington Post reported Friday evening.
Kislyak told his bosses that he discussed campaign issues when he met with Sessions, including Trump's feelings on policies important to Moscow, according to the Post.
That belies Sessions' denials in March — when he recused himself from the Russia investigation — that he "never had meetings with Russian operatives or Russian intermediaries about the Trump campaign."
A U.S. official told the Post that Sessions provided "misleading" statements "contradicted by other evidence."
Sessions is already on thin ice with Trump, who expressed frustration that Sessions recused himself from the Russia investigation.
Sessions, however, said he plans to continue in his role.