Minneapolis police chief resigns after fatal shooting of Australian woman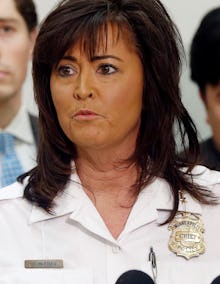 Minneapolis Police Chief Janeé Harteau announced her resignation on Friday after the fatal officer-involved shooting of a 40-year-old Australian woman who was engaged to be married.
Harteau announced her resignation in a Facebook post, saying the shooting of Justine Damond doesn't "reflect the training and procedures we've developed as a Department."
"I've decided I am willing to step aside to let a fresh set of leadership eyes see what more can be done for the MPD to be the very best it can be," Harteau said in the statement. "The city of Minneapolis deserves the very best."
The shooting has rocked the city of Minneapolis — which is seeking answers about why Damond was murdered after calling police for help.
It's the second high-profile officer-involved shooting the city has seen in a year.
Philando Castile, a 32-year-old black man, was shot and killed by an officer during a traffic stop. That officer, Jeronimo Yanez, was found not guilty of second-degree manslaughter last month.
Castile's mother, Valerie Castile, joined a march in honor of Damond earlier Friday.