Sean Spicer said he resigned to avoid having "too many cooks in the kitchen"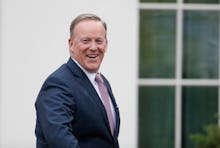 Outgoing White House press secretary Sean Spicer was all smiles as he discussed the circumstances behind his resignation Friday night, telling Fox News' Sean Hannity that all is well in the press shop and that there was no drama surrounding his decision to leave his job just six months into his tenure.
"I will never be able to thank the president enough," Spicer told Hannity in an exclusive interview.
Spicer said President Donald Trump "has been very gracious throughout this process" and that he merely wanted to give newly minted communications director Anthony Scaramucci and new White House press secretary Sarah Huckabee Sanders "a clean slate to start from."
Spicer went on to deny that he felt pushed out, and said his decision was in the "best interest of the communications department."
Spicer tendered his resignation Friday morning, after Trump officially hired Scaramucci — a wealthy financier from New York — as communications director.
The New York Times reported that Spicer was angry that Trump would hire someone like Scaramucci, who has no communications experience.
Publicly, however, he's painted a picture of unity, saying on Hannity's show that he decided to resign because he thought there would be "too many cooks in the kitchen" if he stuck around.
During his appearance on Hannity, Spicer took the time to bash the media, saying some reporters are out to become "YouTube stars" and don't care about the facts — an interesting attack from a press secretary known for uttering a barrage of falsehoods during his tenure.
And while Spicer did attack some reporting, he said he wouldn't paint the entire media "with a broad brush."
Ultimately, Spicer said he will leave the White House at the end of August with "no regrets."