Hope Hicks reportedly tried to rein Trump in during explosive 'Times' interview. It didn't work.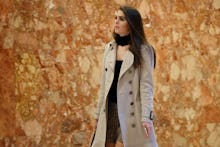 Hope Hicks, director of strategic communications for the White House and President Donald Trump's longest serving aide, attempted to save her boss from himself during an interview with the New York Times this week, Politico reported Saturday.
The 28-year-old Trump Whisperer was unsuccessful.
In a wide-ranging interview with the "failing" paper, Trump sounded off on Attorney General Jeff Sessions, special counsel Robert Mueller and, well, parades.
As he did, Hicks — the only aide present for the Oval Office interview — attempted "to intervene on multiple occasions, reminding the president that he did not have to answer every question on the record," according to Politico, which cited people familiar with the interview who were not named.
"Trump, who thrives off the easy back and forth with reporters he has been engaging in for decades, ultimately overruled her and wanted to charge on," according to the publication.
He railed against Sessions for recusing himself from matters related to the Russia investigations, and left open the possibility of firing Mueller. The remarks drew widespread criticism, including from some Republicans, who called the comments "chilling."
Hicks has come under scrutiny in the wake of the bizarre interview, according to Politico.
"What's amazing to me is that Hope sat there and let it happen," a former top Republican aide told Politico. "I have a very different construct on what it means to staff people. You exist because your job is largely to improve otherwise difficult situations. The fact that people around him are not trying to protect the president blows my mind at this level of politics."
But the low-profile communications specialist apparently sees it differently. Rather than telling Trump what and what not to say, Politico reported, Hicks instead "made the decision that she deeply believes in Trump as a leader, and that she wasn't going to change or judge a 70-year-old man whose career highs have been based on trusting his own instincts."
That's earned the "Hopester" — which Politico claims is Trump's nickname for Hicks — a rarified status in the Trump world, where the ever-loyal former Trump Organization staffer enjoys an almost familial relationship with the president and has acted as a gatekeeper between him and the media — and other Trump aides.
Politico's report provided a fuller portrait of the publicity avoiding communications guru, and laid bare the challenges the impulsive, big-talking president poses for his communications team.
That team was shaken up this week when the White House named Anthony "the Mooch" Scaramucci communications director for the administration on Friday. Sean Spicer resigned as press secretary in the wake of the former hedge fund manager's appointment, and Sarah Huckabee Sanders was promoted to take his place.
As rumors intensify over a potential administration shake-up in August, Hicks appears to be one of the few in Trump's orbit with job security.
"Dan Scavino and Hope Hicks are staying," Scaramucci said in his administration debut at an on-camera press briefing Friday.