Republican Senator urges whoever leaked Russia/Sessions phone calls to release whole conversation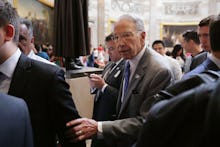 Senator Chuck Grassley (R-Iowa) wants anyone with pertinent information on phone conversations between Russian ambassador Sergey Kislyak and Attorney General Jeff Sessions to come forward and cough it up.
On Saturday, Grassley beseeched the anonymous leaker who initially tipped U.S. officials off to the fact that Sessions had discussed key campaign issues with Kislyak to stop stoking the rumor mill and come forward with definitive proof that the illicit conversation had occurred.
"So much speculation on CNN [about] Session/Russian [phone] call bc of intelligence leak," Grassley wrote in a tweet. "LEAKER: stop tease/leak entire conversation/end speculation."
Although the phone calls between Sessions and Kislyak were initially reported by the Washington Post as having been intercepted by U.S. spy agencies, President Donald Trump also took to Twitter on Saturday morning to blast the "Amazon Washington Post" for having received the information.
"A new INTELLIGENCE LEAK from the Amazon Washington Post, this time against A.G. Jeff Sessions. These illegal leaks, like Comey's, must stop!" the president wrote.
The reported conversations add fuel to speculation about whether the nascent Trump campaign was actively coordinating with Moscow in an attempt to sway the 2016 presidential election.
Sessions, who has since recused himself from the federal investigation into Russian election hacking, has vehemently denied that he and Kislyak engaged in conversations about the Trump campaign.