Donald Trump Jr. and Paul Manafort now to testify before Senate committee behind closed doors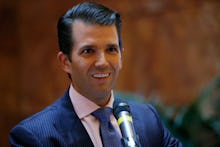 Donald Trump Jr. and Paul Manafort — who met with Russians in 2016 to collect dirt on Hillary Clinton — have both reached deals to avoid being subpoenaed for a public hearing next week, according to a joint statement from Sens. Dianne Feinstein (D-Calif.) and Chuck Grassley (R-Iowa) on Friday.
The president's eldest son and the former Trump campaign chairman will instead "provide the [Senate Judiciary Committee] with documents and be interviewed by committee members and staff prior to a public hearing," according to the release.
Grassley, the committee chairman, and Feinstein, a ranking member of the committee, emphasized that the closed-door testimonies of Trump Jr. and Manafort will be on record and that the committee "will get answers."
Last month, it was revealed that Trump Jr. had taken a June 2016 meeting with Natalia Veselnitskaya, a Kremlin-connected attorney, who supposedly had damaging information about his father's Democratic opponent that had been collected by the Russian government.
"This is obviously very high level and sensitive information but is part of Russia and its government's support for Mr. Trump," Robert Goldstone — the music publicist who helped set up the meeting — wrote to Trump Jr. in emails the president's son released on Twitter.
"If it's what you say I love it," Trump Jr. responded.
Trump Jr. and Manafort were summoned by the Judiciary Committee to appear July 26 in what was initially going to be an open hearing.
Though the testimony will now take place behind closed doors, the two will still eventually give a public testimony, according to Grassley.
Jared Kushner — President Donald Trump's son-in-law and senior adviser — was also present at the Trump Tower meeting with Veselnitskaya, Russian-American lobbyist Rinat Akhmetshin and Russia-connected real estate developer Ike Kaveladze.
He is expected to appear before the Senate Intelligence Committee in a closed-door hearing on Tuesday.
More Kushner non-disclosures
Kushner initially failed to disclose the June 2016 meeting with the Russians on his security clearance form, which has led to calls by Democrats for his top clearance to be reviewed or revoked.
On Friday, he filed another financial disclosure document revealing he had failed to report "dozens" of financial holdings, according to the Washington Post. It was the 39th time he's updated the form. First daughter Ivanka Trump, another adviser to the president, also released a disclosure document that showed she'd received up to $5 million as she entered the White House this spring from her businesses, which she'd promised to remove herself from, the Post reported.
The new disclosure forms come after it was reported in June that Kushner's finances are being investigated by special counsel Robert Mueller as part of his Russia probe.
The day before he appears before the Senate Intelligence Committee, which is conducting its own Russia probe, Kushner is expected to meet with Intelligence Committee investigators.