'Pokémon Go' Fest is a disaster: Niantic CEO booed as connectivity issues have fans seeing red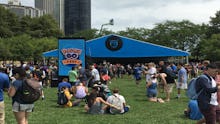 The first Pokémon Go Fest is going on right now in Chicago's Grant Park, and the way things are shaking up, it might well be the last. Niantic promised that the Fest would be a celebration where fans could come together to catch rare Pokémon, take part in special raids, and get their hands on some exclusive items and eggs. However, many at Pokémon Go Fest say the game is unplayable, citing cell phone tower overloads, server connectivity issues, and general technical errors.
Niantic CEO John Hanke took the stage to address the Pokémon Go Fest attendee's concerns and was met with a cacophony of boos and hisses. That's no surprise though, considering there are an estimated 20,000 people waiting 2-to-2.5 hours to get into the event just to be met with broken promises. While there haven't been any major incidents as of right now, per our reporter in the field Alex Borkowski, we do know that there is a legion of pissed off fans pressed into a 0.5 square mile area that aren't too fond of Niantic at the moment.
Pokémon Go Fest: What went wrong?
The primary issue that seems to be occurring at Pokémon Go Fest is a loss of mobile data service for fans and general technical problems with the game's servers. Many fans are unable to connect to the game at all, and those that do are met with slowdown and errors. Our reporter Alex Borkowski overheard some of the following statements from fans:
From a guy in a Yankees shirt during the opening announcements: "I paid a lot of money for my data, give us wifi."
Overheard people shouting, "I came all this way for nothing," and someone shouted, "It's going to be the last," when the host welcomed everyone to the, "First Pokémon Go event."
People were yelling, "Fix it!" as the host talks about the events of the day, and at one point a bunch of people started chanting, "Fix the game, fix the game," and booing when CEO John Hanke came on stage.
At 12:30, I overheard someone say, "I've been here over two plus hours, and I've been logged in for 15 minutes," and maybe like 20 minutes ago at 12:40 my time a CHORUS of boos erupted from over by the main stage.
It seems like this might have been a simple case of Niantic not preparing adequately in time for the Pokémon Go Fest. However, since access to the event was handled via ticket sales, the company should have been aware of just how many people would be attempting to access the game in that small area.
Someone shouted, "It's going to be the last," when the host welcomed everyone to the, "First Pokémon Go event."
Confounding matters further, the official Pokémon Go Fest 2017 Twitch stream has only sporadically shown the Fest. Whether that's by design, or because Niantic doesn't want the issues in Chicago broadcast even further, isn't known. However, it keeps Pokémon Go fans outside the festival from feeling plugged in or joining in on the celebration of one year of Pokémon Go in any meaningful way. The chat is even disabled, which is a missed opportunity for Niantic to reach out and make their side of the story known.
While many details of the disaster that is Pokémon Go Fest are still unknown, it's obvious that Niantic dropped the ball somewhere. Its official Twitter stated the company is taking measures to fix the problems with connectivity. Hopefully, it's able to do so before it's too late to salvage Pokémon Go Fest 2017.
According to our reporter, a Niantic rep has announced that all attendees will receive a refund and $100 worth of PokéCoins with more details to come, but will that be enough to save the fest's reputation?
(Update: 3:20 p.m.) Niantic has announced that they will be extending the rare Pokémon spawn distance to a 2 mile radius around Grant Park until Monday. Additionally, players also now have reentry rights and can come and go from Pokémon Go Fest as they please.
(Update: 3:48 p.m.) Niantic has officially canceled all press interviews for Pokémon Go Fest 2017.
(Update: 5:47 p.m.) Everyone who checked into Pokémon Go Fest gets Lugia for free, and it will appear in raid battles for the next 48 hours. Team Mystic won the fest challenge so Articuno will be the next legendary to hit the game.
More Pokémon Go news, updates, tips and tricks
Raids are here! See why they may be the key to legendary Pokémon. Find out how to determine how long it will take you to reach level 40, and see what we think of the Gen 2 Pokémon added to the game. Here are the kinds of Pokémon you get from 10-kilometer eggs, and here's where you can check out what you missed during the Water Festival and Solstice events.