Amid new revelations, here's what we've learned about the Russian lawyer who met with Trump Jr.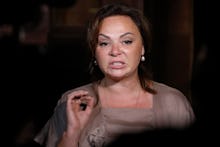 A clearer picture of Natalia Veselnitskaya — the Russian lawyer who met with Donald Trump Jr. in 2016 — is emerging following a report Friday linking her to a spy service once helmed by Vladimir Putin.
According to Reuters, Veselnitskaya represented the FSB — Russia's Federal Security Service — in a legal battle over a Moscow property from 2005 to 2013. She represented Military Unit 55002, which was occupying a Moscow building, against the Federal Property Agency, which wanted to regain ownership rights to the property.
Veselnitskaya downplayed the report in a Facebook post on Friday, saying she was "disappointed" and instructed Reuters to "dig around the case files" for examples of her other clients. But the revelation that she represented the powerful spy agency hints at the extent of her connections to the Russian government, which she has so far denied.
Veselnitskaya met with Trump Jr. and other Trump campaign officials in June 2016 after a music publicist promised the president's eldest son dirt on Hillary Clinton, the Democratic presidential nominee. The information, Trump Jr. was told, was "part of Russia and its government's support for Mr. Trump," according to emails released by Trump Jr.
The meeting — which was also attended by President Donald Trump's son-in-law Jared Kushner and then-campaign chairman Paul Manafort — is seen by many as the strongest suggestion so far that the Trump campaign may have colluded with Russia.
The Trump team has sought to play down the importance of the meeting, with deputy assistant to the president Sebastian Gorka calling it a "nothing burger." Trump Jr. said the meeting "went nowhere," and his father defended him as a "good boy."
But the meeting has continued to draw scrutiny, including from special counsel Robert Mueller.
Trump Jr. and Manafort are expected to testify in a closed hearing before the Senate Judiciary Committee, and Kushner will appear before the Senate Intelligence Committee next week.
Veselnitskaya — who has battled the Magnitsky Act — has denied any Kremlin connections, despite having a roster of clients that includes "state-owned businesses and a senior government official's son," according to the New York Times.
With her at the 2016 Trump Tower meeting was Rinat Akhmetshin, a Russian-American lobbyist said to be a former Soviet spy who may still have connections to Russian intelligence.
The FSB is regarded as a successor to the infamous KGB military service. Putin served as the director of the agency from 1998 to 1999 before ascending to the presidency in 2000. In his tenure at the FSB, Putin is believed by some to have orchestrated a series of apartment bombings across Russia that precipitated a second war with Chechnya.
According to the Atlantic, the case in which Veselnitskaya represented the FSB was a "classic" instance of the service extorting property owners to make "minigarchs out of rank-and-file FSB officers whose salaries don't square with the posh lifestyles they lead" — an example of the kind of corrupt tactics "at which both Veselnitskaya and the FSB excel."
"The Reuters story is not about espionage but about corruption," the Atlantic's Julia Ioffe wrote Friday. "It fills in a portrait of Veselnitskaya as well as her connections to the organs of the Russian state, and the methods by which she operated."