SNES Classic Walmart Preorder: Is Super Nintendo Mini available again? Are orders being canceled?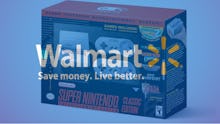 Walmart set its SNES Classic Edition preorder page live last night at around 11:30 p.m. Eastern. Walmart started taking orders for the Super Nintendo Mini without warning or fanfare, leaving a lot of gamers who wanted to purchase it unprepared.
Unfortunately, preorders were sold out in around 40 minutes, leaving a ton of Nintendo fans waiting for a second round. However, even some people who managed to snag a SNES Classic last night are reporting that their orders have since been canceled.
SNES Classic Walmart Preorder: When can I get another chance to order the Super Nintendo Mini?
Well, considering that Walmart didn't announce the first round of SNES Classic preorders, I doubt it'll clue us in on the second. I was lucky enough to have signed up for notifications from NowInStock.com, which sent me an email the second the Walmart listing went live. The only drawback to NowInStock is that every once in a while you'll get a false positive for a product going live, which doesn't hurt anything in the long run but does shatter your nerves when you're waiting for a chance to get a coveted item.
You can also keep an eye on the SNES Classic preorder pages on the following sites:
• Amazon
• Best Buy
• GameStop
SNES Classic Walmart Preorder: Is my order going to be canceled?
There's a lot of rumors floating around Reddit and Twitter about last night's SNES Classic preorder. It seems that more than a few people have gotten their orders canceled, while others have received no indication that there's anything wrong with theirs. The common threads with these cancellations seem to be:
1. Walmart canceled orders of people whose accounts were new and had to go through a verification process.
2. Those who preordered using a credit card and didn't have the $79.99 plus tax MSRP of the SNES Classic available on their accounts had their orders canceled when Walmart attempted to pre-authorize the card.
There are some people claiming on social media that they contacted Walmart, and an official claimed that the preorder had gone live on accident and all preorders were canceled. However, I was able to purchase one with a credit card, and the order went through without a hitch.
I've personally not received any cancellation or notice from Walmart except the order confirmation email, so take what people say about the situation with a grain of salt for now. We've reached out to Walmart for an official statement concerning the SNES Classic preorder and will update this post when we receive an answer.
More gaming news and updates
Check out the latest from Mic, like this deep dive into the cultural origins of Gamergate. Also, be sure to read this essay about what it's like to cosplay while black, a roundup of family-friendly games to play with your kids and our interview with Adi Shankar, producer of the animated Castlevania Netflix series.