At least 9 dead, 29 injured in locked tractor trailer outside Walmart in Texas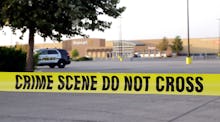 Eight people were discovered dead early Sunday inside a locked, sweltering hot tractor trailer parked on a Walmart lot in San Antonio, Texas in what authorities are calling a "human trafficking crime."
They were found after an employee of the megastore called the authorities.
According to CNN, 30 more people were found inside the trailer injured. Of the 30 injured, 17 were rushed to the hospital in critical condition, and the remaining 13 were taken to the hospital in serious condition. According to the Los Angeles Times, one more person died at the hospital.
San Antonio law enforcement said most of the people inside the truck were adults in their 20s and 30s; however, two appeared to be children, according to the Guardian.
The Walmart employee who discovered the tractor trailer said they called authorities after they heard a man inside of it pleading for water.
Authorities said the air conditioner inside the vehicle was broken and that the people inside it did not have access to water. These conditions, coupled with the high temperature of 104 degrees Fahrenheit in San Antonio on Friday and Saturday, may have created the fatal conditions for those inside the tractor-trailer.
"[The people inside the vehicle] were very hot to the touch," San Antonio Fire Chief Charles Hood told the media, "So these people were in this trailer without any signs of any type of water. It was a mass casualty situation for us."
According to the Guardian, San Antonio Police Chief William McManus said the "horrific tragedy" was the result of "a human trafficking crime," and that the Department of Homeland Security was involved in the investigation.
The suspected driver of the vehicle has been detained, McManus said.
A 2012 report from the International Labour Organization found that 20.9 million people worldwide are the victims of human trafficking. A 2015 report from the same organization said that human trafficking generates an annual revenue of about $150 billion. In a 2016 report published by the United States Department of Labor, the DOL said 139 goods from 75 countries are manufactured by forced or child labor.
Though it is unclear at this time whether or not the people locked in the vehicle were undocumented immigrants, the Guardian notes the similarity between this instance and a 2003 case where 19 immigrants died while being transported from the South Texas border to Houston in a dangerously hot vehicle.
Prosecutors argued in court that the driver could hear the immigrants "begging and screaming" for their lives, according to the Guardian. Though the driver initially received multiple life sentences at the time of his conviction, a federal appeals court reduced the sentence to 34 years in 2011.
July 24, 2017 9:14 a.m.: This story has been updated.