'Girls Trip' finishes second at the box office, outperforming expectations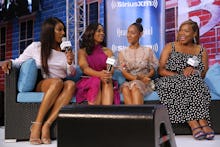 Though Christopher Nolan's Dunkirk nabbed the number-one spot, this weekend's box office was marked by the success of Girls Trip, which outperformed expectations and took in a projected $28 million in its opening weekend.
Girls Trip, which stars Regina Hall, Jada Pinkett Smith, Queen Latifah and Tiffany Haddish as four college friends reuniting for a trip to New Orleans, came in second at the box office, earning over $11 million on Friday alone and beating out such recent blockbusters as War for the Planet of the Apes and Spider-Man: Homecoming.
The film was initially predicted by Variety on Wednesday to take in only $25 million, demonstrating once again how black- and female-driven movies are often underestimated at the box office. Hidden Figures, for instance, earned $22.8 million in its first weekend in wide release instead of a predicted $16 to $18 million, overtaking Rogue One: A Star Wars Story for the number-one spot.
"Black women, we made this movie for you and it's about time you received the big-screen treatment," Girls Trip director Malcolm D. Lee said at a Los Angeles screening of the film, as quoted by Variety.
In its 2017 Hollywood Diversity Report, the Ralph J. Bunche Center for African-American Studies at UCLA made it clear that "diversity sells," writing, "Despite false claims to the contrary, there is no tradeoff in Hollywood today between diversity and profitability. Diversity is clearly a plus factor for the bottom line."
Girls Trip has also won critical success, with a current 89% rating on Rotten Tomatoes.
"Call me surprised with a cherry on top," critic Peter Travers wrote in his Rolling Stone review of the film, going on to praise Lee's treatment of "the ladies as real people instead of props."
"Let's hope it's a trend," he continued.