$3 beauty products? Meet the brand on a mission to save you money — and see how they're doing it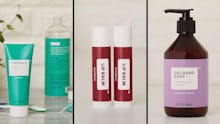 The new company Brandless is banking on the idea that you really don't care about what your everyday beauty and personal care products look like, but instead, that they're safe and that they work.
"We wanted to bring a 'just what matters' approach to beauty products," Tina Sharkey, the co-founder and CEO of Brandless, said in an email interview. "That started with creating a curated assortment of essential beauty products people use every day. Each one was developed to align with the ingredients and attributes people are looking for, from paraben free to phthalate free to cruelty free. They're all in sizes that make sense. The packaging is clear about how it meets your values and what's on the inside."
Just how clear? Well, most of the labels on Brandless' selection of beauty products are just one color plus white, with the use for each product in clear block letters, as well as the ingredients and... that's it. No cheeky little sayings or directions, because these are the essentials.
That, in turn, has let Brandless spend less on packaging and therefore make each product it sells a whopping $3. Yeah, you read that right.
"We want to give everyone access to the highest-quality products at the fairest price possible," Sharkey said. "We're able to make everything we offer available at such an affordable price by eliminating the hidden costs you pay for a national brand, often assorted with production and retailer margin (what we call the BrandTax). Those markups really add up — you pay an average of 40% more to have a big-name brand on the label. By stripping out all of those excess costs and building a more efficient, vertically integrated company, we can offer the best stuff at fair prices."
In addition to beauty products, Brandless has personal care items like toothpaste, food like pasta sauce or coffee and housewares like cleaning supplies — and they're all just $3.
With quality in mind, more than 70% of Brandless' food is organic, all products are GMO free and, in the beauty category, none of the products include any parabens and they're all cruelty free. In the beauty industry, this kind of transparency is rarer than you may think, with beauty products in the United States far less regulated when it comes to using possibly harmful ingredients in its products than, say, most of Europe.
Compared to the European Union, where more than 1,300 ingredients are banned from beauty products, the U.S. has banned just 11.
"By putting key attributes for each Brandless product in the white box that's front and center on the packaging, as well as a full list of ingredients on the back of the package, we're making it easy for people to be informed about whether a product meets their values," Sharkey said. "We hope that information system will also help educate consumers about values to understand and consider for the beauty products they use."
Brandless is trying to make this movement of producing very cheap and still high-quality products the new normal.
"Our aim is to lower the entry price point to the clean beauty category," Sharkey said. "Everyone should be able to shop their values, and have access to better stuff. But better shouldn't cost more. People are often forced to choose between their values (in beauty, things like no sulfates, no synthetic dyes or fragrances, etc.) and value (the cost). Brandless Daily Moisturizing Facial Lotion, for example, is 367% less expensive than ones from national brands with similar ingredients and quality."
So far, according to Sharkey, their hunch that people care more about what's in their products and their effectiveness than what they look like has been right. "We're most proud that in our first week, Brandless orders were placed in all 48 states where we're available," Sharkey said. "It shows that what we're doing speaks to people across the entire country."