CNN's Jake Tapper and Anthony Scaramucci trade barbs in heated interview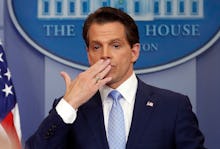 In his first major interview with the press since his appointment Friday, new White House communications director Anthony Scaramucci appeared on CNN's State of the Union Sunday morning, where he and host Jake Tapper traded barbs on a number of issues, including public outrage over the Russia investigation and the future of the Donald Trump presidency.
Addressing the issue of Scaramucci's now deleted tweets criticizing the president during the campaign, the new White House communications director said he apologized to Trump and asked that they both move on from those remarks.
"If I said some things about him while I was working for another candidate, Mr. Trump, Mr. President, I apologize for that. Can we move on from that?" Scaramucci said.
Tapper shot back, criticizing Scaramucci for seemingly performing on television for Trump instead of using the opportunity to address the American people as a whole.
"I love how you're talking to one specific viewer right now, the most important audience that there is," Tapper said sarcastically.
"He's gonna win [re-election], Jake," Scaramucci responded, adding, "I'll bring a box of Kleenex over here to CNN" in reference to Trump's perception of the network as deeply biased against his administration.
Tapper rejected Scaramucci's faux sympathy: "We don't need Kleenex."
During the 2011 and 2012 Republican primary, Scaramucci deleted at least two tweets that praised Republican presidential candidate Mitt Romney for staying away from Trump's movement to discredit Barack Obama's presidency by suggesting Obama was not an American citizen. He also called his future boss an "odd guy" for endorsing erstwhile presidential hopeful Newt Gingrich, according to the Washington Post.
In a 2015 appearance on the Fox Business Network, Scaramucci called Trump a hack and a bully while predicting he would lose the presidency.
"He's a hack politician. I'll tell you who he's gonna be president of — you can tell Donald I said this — the Queens County bullies association," Scaramucci said. He also attacked Trump's conservative bona fides, suggesting he would pick Democratic superstar Senator Elizabeth Warren as his vice president if he won the party nomination.