New White House communications director Scaramucci says press briefings should be on-camera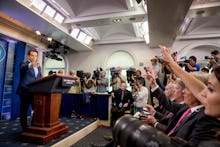 The daily White House press briefings may soon be on-camera once again — if incoming White House communications director Anthony Scaramucci gets his way.
Scaramucci expressed his "personal opinion" that the press briefings should be recorded in an interview Sunday on CNN, after host Jake Tapper asked if the cameras would return under his tenure.
"If you're asking me for my personal opinion, and maybe the president will be upset with me for giving my personal opinion, we should put the cameras on," Scaramucci said.
The White House previously made the decision to start prohibiting reporters from recording many of the daily press briefings back in June. The widely criticized restriction was first put in place under recently resigned press secretary Sean Spicer, who committed a series of blunders during his on-air briefings in the early days of Donald Trump's presidency.
Whether or not the cameras actually come back on during the press briefings, however, is ultimately up to Trump himself, Scaramucci said Sunday.
"If the president doesn't want the cameras on, guess what? We're not going to have the cameras on. It's really going to be on him," Scaramucci explained.
Scaramucci's opinion that the briefings should be recorded is in line with his comments on Sunday to Tapper that the White House should have a "softer" relationship with the press, despite the president's often-combative attacks on what he refers to as the "fake news" media.
"Bring the press into the office," Scaramucci said. "Let's soften up our relationship with the press."
Primarily, however, Scaramucci had high praise for Sarah Huckabee Sanders, who will replace Sean Spicer as White House press secretary. The new communications director pointed to Sanders' "phenomenal" performance in press briefings to justify why the press briefings should be recorded.
"I think we should put the cameras on. I think Sarah does a great job," Scaramucci said. "She's [an] incredibly warm person; she's incredibly authentic."
Scaramucci did, however, have one thing to ask of his new press secretary.
"Sarah, if you're watching, I love the hair and makeup person that we had on Friday," Scaramucci said, "so I'd like to continue to use the hair and makeup person."