The male makeup revolution is here — but to make a real difference, changes must be made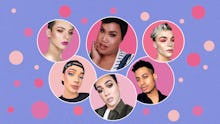 More than 20 years after RuPaul landed himself a MAC Cosmetics campaign and shook the beauty world to its core, a makeup industry revolution is finally taking place. Male beauty bloggers, in all their contoured and highlighted glory, are escaping the confines of YouTube tutorials and landing campaigns and ads once reserved for only the hottest female actresses and models.
It's so long to Drew Barrymore for CoverGirl, and hello to James Charles for CoverGirl. Goodbye, Adriana Lima for Maybelline, and hello Manny Mua. Catch you later Kate Moss for Rimmel, and hello Lewys Ball.
It's something Mic predicted in March 2016, when Mua started getting attention from Maybelline on social media. That October, James Charles being named CoverGirl's first CoverBoy and in January 2017, Mua was officially named Maybelline's first male campaign star.
Since that time, dozens of brands — from Rimmel to MAC to L'Oreal — have jumped on board, giving men some of the most coveted beauty campaigns in existence. It's been a long time coming. Even before RuPaul's turn as a makeup star, beauty brands profited from men buying products marketed toward women. So it's not like men have all of a sudden started wearing makeup. It's more like they're finally getting recognition.
All this progress got us thinking. What's next? As more campaigns with men roll in — Soap & Glory got its first male spokesperson last week — how can this progress continue and grow over the next few years? What more can come of this trend so it's not considered a trend?
Mic asked a number of men who wear makeup to find out.
What the campaigns are trying to achieve: Before we get to how this movement can continue to grow stronger, we should consider what these campaigns are really trying to achieve.
"The ideal place to be in is where there isn't really a conversation about it," Spencer Claus, who's 17 years old and has already worked with NYX Cosmetics, said in an interview. "It's not something that's out of the ordinary or should be fought in anyway. I want to be in a place where it's part of this daily conversation, where it's 'Wow, look how beautiful he is' rather than, 'Wow, what is he doing.'"
The ultimate goal for many of these guys when they're showing off their makeup skills on Instagram and in brand campaigns (if they're so lucky), is to normalize the idea of men wearing makeup, and to make it known that this once-niche trend is ready to make its mainstream breakthrough.
That normalization shouldn't just be for guys like Claus who feel confident wearing makeup for his tens of thousands of Instagram followers. Ultimately, these guys hope that the kid bagging your groceries or the captain of the soccer team can wear makeup and no one will bat an eye.
"A guy wearing makeup who wants to wear makeup, and not a [makeup artist], I want him to feel comfortable doing that," Miguel Ghalichi, a 20-year-old that has been wearing makeup for two years, said in an interview. "I want that boy to be able to walk out of his house in mascara and lipstick and feel confident and not afraid. These men in makeup aren't just pretty on the internet, but I want them to see us as inspiring. I want it to be normalized. I want people to not be judged or given a dirty look."
Have the campaigns been effective? It's hard to say conclusively without substantive data. But from the guys we've talked to, this is when it gets murky. In a viral moment just a few weeks ago, a man in England called out his managers at work for asking him to tone down his makeup (which involved foundation, highlighter and little else).
Seeing this, it's clear that these ads haven't had an immediate effect, although it'd be unfair to expect them to. For John Ersing, a New York-based copywriter at Moroccan Oil who uses eyebrow makeup every day and foundation and highlighter for special occasions, although the ads haven't had a real effect on him, he does see it as inspiring for the next generation.
"They're inspiring in that I love seeing a variety of gender representation," Ersing said in an interview. "What I find most inspiring about them, though, is that they're able to do this in the first place. I can't imagine a teenage boy wearing a full face for everyone to see even five years ago."
More than helping to normalize men in makeup, these campaigns and the hundreds of male beauty bloggers on Instagram and YouTube have at the very least sparked a conversation around makeup and gender. And when you look at how many followers each of these guys has on Instagram, you can see that it's a massive conversation being had. Claus has more than 27,000 followers. Ghalichi's got more than 47,000. And Ryan Potter, who's just 18 years old and has been wearing makeup for three years now, has more than 232,000. And these aren't silent followers, but rather incredibly active ones who watch videos from these bloggers more than 100,000 times and post thousands of comments.
"What the ads do is that they get people talking," Potter, who's worked with ELF Cosmetics, said in an interview. "It's getting a dialogue started. They're asking these questions and getting curious. It's a push in the right direction."
A push in the right direction that some in the movement say needs to be augmented here and there. The bloggers we spoke to had plenty of ideas for how the movement could change in order to reach as many men as possible in the next few years in an effort to make sure that this isn't a fad so much as a widening acceptance of something that has long existed outside of the mainstream.
The need for more diversity: What all three bloggers who we spoke to for this piece agreed on is that as beauty campaigns starring men continue to roll out, companies should invest in diversity.
"One of the biggest issues is that I've yet to see a male beauty blogger who has a darker complexion be featured in a campaign," Claus said. "We have Manny [Mua], and Patrick Starrr, but Patrick is as dark as the skin has gotten in beauty campaigns. I would love to see a lot more black male beauty bloggers, or Asian beauty bloggers."
"We need people from every single race," Ghalichi concurred. "People of color should be more than a trend. Dark skin should be used for more things than highlighter."
Other than racial diversity, these bloggers are also yearning for a time when all bloggers don't strive to look like a highly-contoured member of the Kardashian-Jenner family. "I think we only see Instagram makeup," Ghalichi said. "We only see matte and glossy lipstick. We only see the highlighting. Some people want to see just a little bit of gloss. They almost set these standards and make people think that the highlighters are very strong and the contour is defined, and that's beautiful. That's the only way to be 'glam.' We need to broaden the idea of what it is beautiful."
In diversifying the makeup looks that many of these guys do regularly, the bloggers hope that that can bring more men who are more hesitant of makeup into the conversation. "I think to reach more men they could deviate from the glamazon thing and toward natural enhancements for guys who just want to do a little something to make themselves look better," Ersing said. "Think how hair color is sometimes marketed to men specifically for the purpose of covering grey hairs. Guys who respond to more utilitarian messaging rather than for-the-aesthetics messaging."
Why straight men need to be included in the conversation: For Claus and Potter specifically, focusing on more natural makeup might be pivotal in bringing in men who are hesitant of makeup, or even straight guys. Right now, most of the very popular male beauty bloggers are gay, and of course if they want to connect with most men in the world, then straight men should be included in the thought process.
"We need to have more straight men wearing makeup," Claus said. "I know there are straight men who do, like Chris Pratt is known for that, so once that becomes more visible, that will be actually the biggest thing that lets other straight, cisgender men make them understand that they can do that too."
But gender norms and the patriarchy might make that harder to achieve than they think. "I think it's hard because a lot of the guys who would identify as straight, they're nervous," Potter said. "They're curious about it, because everybody wants to look a little nicer and makeup makes you look better. But they're nervous about what people would think."
What's ironic about all that is that men wearing makeup are in front of us all the time are. Every news anchor wears makeup. Every guy on a red carpet wears makeup. The president of the United States, we're pretty positive, wears makeup.
In order to keep this movement going through, maybe it's time to highlight that. And maybe it's time to take diversity more seriously. The movement is about normalization after all, and making sure that no young boy, no matter who he is or where he is, ever has to feel insecure or awkward about wanting to wear makeup like so many millions of people do every day.
"When I grew up, I was so bummed out about wearing makeup to cover up my acne and I was really ashamed," Claus said. "I would be so uncomfortable if my mom told me to blend in my powder. So I just want to make sure other kids don't have to go through that phase when they're ashamed of something they love. No one should ever have to go through that."