White House comms director Anthony Scaramucci says he'll start firing people "if leaks don't stop"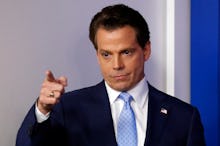 On a Sunday Fox News appearance, incoming White House Communications Director Anthony Scaramucci promised "dramatic action" against his staff if the leaks of sensitive information to the media don't stop during his tenure.
Referring to Scaramucci's press briefing Friday, host Chris Wallace asked Scaramucci how he planned to "close the disconnect" between how the media sees the president and how the Trump administration favorably views its president.
Scaramucci responded that stopping the "unprofessional" leaks of information from White House to press is paramount to closing that gap.
"One of the first things I wanna do is, we gotta get the leaks stopped, Chris," Scaramucci said. "If we don't get the leaks stopped, I am a businessperson and so I will take dramatic action to stop those leaks."
When Wallace pressed Scaramucci on what that dramatic action might look like, the newly announced White House communications director said it would take the form of firings.
"If the leaks don't stop, I'm going to pare down the staff," Scaramucci said. "It's just not right, Chris. It's not fair to the president and it's not fair to the people in the government."
Scaramucci later clarified that his pink slips would only be given to staffers on his team.
Though it is unclear exactly which leaks Scaramucci was criticizing, the seemingly unauthorized flow of information from within the walls of the Trump administration to the media has tormented Donald Trump's presidency since his inauguration. On Twitter, the president has launched many a tirade against so-called "illegal leaks" to press — including accusations that former FBI Director James Comey broke the law in speaking to journalists.
Most recently, Trump complained on Twitter about the intelligence leaks that potentially incriminated Attorney General Jeff Sessions, a Trump loyalist.
In that tweet, Trump is referring to a Washington Post story in which intelligence intercepts described by U.S. officials show that Sessions discussed the Trump campaign with Russian Ambassador Sergey Kislyak.
Though it is unclear who these unnamed officials are from the Post's report, Scaramucci does not have the authority to terminate the employment of anyone in the intelligence community as reprisal for leaking information to media.