3 key takeaways ahead of Jared Kushner's questioning by Senate Intelligence Committee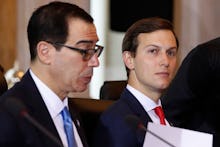 Jared Kushner, senior adviser and son-in-law to President Donald Trump, will stand before the Senate Intelligence Committee on Monday to face questions related to his involvement in the Trump campaign as it pertains to possible collusion with the Russian government.
His meeting comes following a series of bombshell reports that found members of the Trump campaign — including Kushner — met with a Kremlin-linked lawyer in order to obtain damaging information on Hillary Clinton, then-candidate Trump's Democratic opponent.
Here are three key takeaways ahead of Monday's hearing:
1. Unlike the hotly anticipated Senate hearing for ousted FBI Director James Comey — which Nielsen said drew approximately 20 million viewers — the public will not have access to Kushner's meeting with the Senate Intelligence Committee.
2. In a decision that has drawn criticism from some Democrats, Kushner will not be under oath when he meets with the Senate Intelligence Committee behind closed doors. According to NBC News, critics of the terms of his appearance before the Senate maintain that Kushner will be able to "avoid directly answering questions about his alleged links to Russia."
3. Though much of the Senate's questioning about the meeting is expected to focus on Kushner's June 2016 meeting with Kremlin-linked lawyer Natalia Veselnitskaya, anything as it pertains to alleged collusion between the Trump campaign and Russia is on the table.
The Senate Intelligence Committee may also ask Kushner about alleged meetings he held in December with Russian ambassador Sergey Kislyak and Sergey Gorkov, the head of a Russian bank that was sanctioned by the U.S. as reprisal for Russian President Vladimir Putin's annexation of Crimea.
Those alleged meetings were first reported by the Washington Post in May.