"We're getting our asses kicked in the elections." But the new Democratic message may not fix that.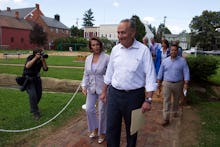 BERRYVILLE, Va. — The gathering of men and women in the park between a Dollar General and the town library drew only two attendees who were not white and over the age of 55. One of those two faces, Rep. Ben Ray Luján (D-N.M.), told the small crowd of supporters and Democratic aides the party's "Better Deal" platform would bring back the party in races nationwide.
"Democrats can't take anything for granted," Luján, the head of the Democratic party group seeking to retake the House in 2018, said. "As a matter of fact, we have a lot of work to do."
Luján spoke against a backdrop of children playing before antique storefronts of the rural Virginia community. The selection of politicians present to take in the Democrats' announcement was enough to raise questions about the party's new message — and the people delivering it.
Senate Minority Leader Chuck Schumer (D-N.Y.) and House Minority Leader Nancy Pelosi (D-Calif.) assembled the House and Senate's top Democrats on Monday in this rural Virginia town to sell their "Better Deal" vision for the Democratic party: "Better Jobs, Better Wages, Better Future."
The agenda is a strictly economic pitch to voters who believed President Donald Trump would be better for their wallets than his 2016 presidential election opponent, Hillary Clinton. "The number one thing we did wrong [in 2016] is not present a strong, bold economic agenda for working Americans," Schumer said at the event. "We're here to tell ... the working people of America: Someone has your back."
"Democrats can't take anything for granted." —Rep. Ben Ray Luján (D-N.M.)
But speaking ahead of Monday's rollout, Democrats across the country and progressive activists said the "Better Deal" may not do enough to attract voters who fled to Trump and do too little to energize traditional Democratic voters. Liberal activists criticized the message, while moderates expressed concern it would be discarded as too academic.
At moments, Monday's event felt like a Sen. Bernie Sanders (I-Vt.) rally, with Sen. Elizabeth Warren (D-Mass.) firing up the crowd with anti-corporate rhetoric. "Americans know this economy is rigged," Warren said to cheers.
Warren was the only high-profile potential 2020 candidate for the Democratic presidential nomination at the event, but she was far from alone in spreading that message. "Old-fashioned capitalism has broken down to the detriment of consumers," Schumer told the crowd.
Rep. Tim Ryan (D-Ohio), a seven-term congressman and self-described "progressive" who failed in a bid to unseat Pelosi last year, cautioned that pushing an anti-corporate agenda will alienate voters who believe business, not government, should grow America. Ryan recently said it would be difficult for Democrats to take back the House with Pelosi as their leader.
"If you want to really connect to people, you can't be hostile to business," Ryan said.
Others interviewed by Mic said the party's new message was too safe. Party leaders avoided including social issues, like police shootings or reproductive rights, in their platform, which targeted white, working class voters who flipped from Barack Obama to Trump. Schumer said those economic priorities would be announced in more detail in the coming months.
But that approach may turn off minority voters, as well as others who'll be key to the Democrats' future, activists said.
"The Democratic party has got to ... push the boundaries and push the party to step into the fire," Women's March co-founder Tamika Mallory said. "It doesn't put you in the fire when you say something that, of course, we all agree with."
Those things all Democrats more-or-less agree with? A higher minimum wage, more affordable college, cheaper prescription drugs and renegotiated trade deals. Those ideas happen to be the bedrock of the "new" Democratic message; they were also supported by Clinton.
The Better Deal agenda does place a new party focus on breaking up monopolistic corporations, but the rhetoric of creating a government that works "on behalf of the middle class" is not new. It was used by Obama against Mitt Romney in 2012 and expanded upon by Sanders in 2016.
There are also certain similarities to the new Democratic message and Trump's campaign theme. Democrats says they will take on "powerful special interests and dark money"; Trump spread that message to effect in 2016, saying Clinton epitomized Washington corruption and declaring that he would "drain the swamp."
Rep. David Cicilline (D-R.I.) said favorable polling on issues like regulating big corporations and raising wages played a key role in forming the party platform. "The election result obviously causes a lot of reflection," Cicilline told Mic. "We listened to the American people and learned a lot in this process."
The question is whether the "Better Deal" platform will change the minds of the majority of Americans who believe the Democratic party currently only stands against Trump, rather than for anything.
For example: One of the first areas Democrats say they will address are job retraining programs to give unemployed and underemployed workers new skills. "To be ready for the 21st-century job, we need to have 21st-century skills," Rep. Cheri Bustos (D-Ill.) said as she pledged to double federal investment in workforce training and apprenticeship programs.
Pete Buttigieg — the 35-year-old mayor of South Bend, who gained a national profile after he mounted a bid for DNC chair earlier this year — is not so sure.
"If we lead with this idea of retraining, we may miss the importance of identity and what that means when you talk about the future of work," Buttitieg said. "When Trump tells all the coal miners the coal jobs are coming back, a lot of them probably know that's bullshit. But what they hear is a nod to their profession."
Nearly 70 miles from Capitol Hill, Democrats at the event spoke next to "Dump Comstock" yard signs — a not-so-subtle reference to Rep. Barbara Comstock (R-Va.), who won the congressional district in which the event took place by nearly six points in 2016.
Luján told Mic the "Better Deal" messaging will be "member-driven," with Democrats taking the focus-group-tested language from Washington to voters in their districts. But it's not clear how the Democratic message will be used in swing districts like the Virginia 10th in the 2018 midterm elections.
"One three-line slogan is never going to resonate with all the Democrats we see across the country." —SwingLeft campaign director Adrienne Lever
The sloganeering effort was siloed within the congressional Democratic leadership. The Democratic National Committee endorsed the plan in a statement to Mic, but did not help craft the Schumer-and-Pelosi-led pitch. The Democratic Senatorial Campaign Committee also took a backseat in crafting the party message.
"One three-line slogan is never going to resonate with all the Democrats we see across the country," Adrienne Lever, campaign director for SwingLeft, said in an interview. Her group is focused on helping Democrats flip 24 of 48 Republican-held districts it has targeted nationwide, including Comstock's district.
"We have voters and candidates who fall on all different points on the spectrum of what it means to be a Democrat," Lever said. "It's not about any individual slogan. It's about what we do in these districts to communicate with voters about the issues that matter to them."