Jared Kushner releases statement ahead of testimony, describes four meetings with Russians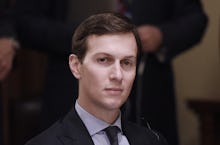 Presidential son-in-law Jared Kushner is set to speak before the Senate Intelligence Committee in a closed-door session Monday about his behavior during now-President Donald Trump's campaign — and new reports reveal he will discuss four meetings with Russians during his father-in-law's presidential campaign but will deny any impropriety or collusion.
Kushner, who now serves as a senior adviser in Trump's White House, prepared an 11-page-statement that he reportedly plans to submit for the record, the Washington Post reported Monday.
In it, he describes four meetings with Russian officials during the campaign and transition period, but he reportedly denies any "improper contacts or collusion," according to the Post, which obtained a copy of Kushner's statement.
Two of the meetings he describes took place during the campaign and two took place after the election, one on Dec. 1 with Russian Ambassador Sergey Kislyak, whom he met with at Trump Tower, and one on Dec. 13, with Sergey Gorkov, a Russian banker with connections to the Kremlin.
"I did not collude, nor know of anyone else in the campaign who colluded, with any foreign government," Kushner says in the statement, according to the Post. "I had no improper contacts. I have not relied on Russian funds to finance my business activities in the private sector."
In the 11-page statement, Kushner reportedly acknowledges his presence at a June 2016 meeting also attended by Donald Trump Jr. and a Russian attorney — a meeting that was confirmed by Trump Jr. when he released screenshots of emails sent to organize it.
In his statement, Kushner says he came late to that June 2016 meeting and that, when he arrived, the topic of discussion was a Russian ban on adoptions to the U.S.
Kushner says in the statement that he "quickly determined that my time was not well-spent at this meeting," and describes emailing an assistant, telling them to call him so he could have an "excuse" to leave the meeting.