Dozens killed in car bomb attack in Kabul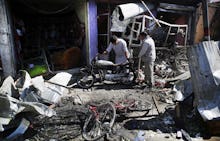 At least 30 people were killed and at least 42 were wounded in a suicide car bomb attack in the Afghan capital of Kabul on Monday, the BBC reported. The Taliban has claimed responsibility for the attack, according the BBC, and were attempting to target "intelligence service officials."
The blast happened during rush hour on Monday, when a car bomb exploded in a largely Shia district in Kabul, striking a bus that was carrying employees from the government's ministry of mines, the BBC reported.
Three vehicles and more than a dozen businesses were destroyed or damaged in the attack.
Monday's violence is the latest in a series of recent attacks in Kabul, allegedly carried out by both the Taliban and the Islamic State group, according to the BBC.
In May, at least 150 people were killed and 300 were wounded in a massive bombing in Kabul, one of the deadliest attacks in recent years. The Taliban denied responsibility for that attack, but officials believe that a Pakistani group with ties to the Taliban was responsible, CNN reported at the time.