'Game of Thrones': So Samwell Tarly is basically George R.R. Martin, right?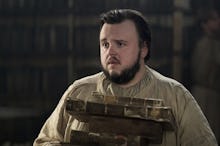 Samwell Tarly has long felt like more of a stage prop than an actual character with agency in the Game of Thrones universe. Played by John Bradley, he's the lovable buffoon, the Nick Frost to Jon Snow's Simon Pegg, the George Costanza to Snow's Jerry Seinfeld. This season, Tarly has felt especially peripheral now that he's not even fulfilling his chief role: making Jon scrunch his face into the occasional smile. And yet, two episodes in, we've gotten two lengthy Sam sequences.
During Sunday night's episode, the Thrones writers added a clever wink that hints at a sort of meta-role for Samwell. He's essentially a stand-in for the author of the books that the show is based on: George R.R. Martin.
The main signpost for the link between Sam and his creator comes in a quip-filled exchange between Sam and his Archmaester mentor in the Citadel's library. The Archmaester, played by Jim Broadbent, is talking about a book he's working on while stacking other tomes under his pupil's chin.
"I'm not writing A Chronicle of the Wars Following the Death of King Robert I so it can sit on the shelf unread," he says. The Archmaester reads into Sam's unimpressed expression. "What, you don't like the title? What would you call it then?"
"Possibly something a bit more poetic?" Sam responds.
"We're not poets, Tarly." No, they're historians — but Sam's an avatar for a novelist. While Sam doesn't outright turn to the camera and suggest the title "A Song of Ice and Fire," the wink is clear. He's likely the storyteller of this drama, George R.R. Martin made fictional flesh. The more one examines that interpretation, the more resemblances there are.
During an interview at the 2014 San Diego Comic-Con, Martin suggested as much, noting that if he were in the story he'd "probably be Samwell Tarly."
"He's a great character," Martin said. "Tyrion might be who I want to be, but Sam is probably closer to who I actually am. The fat kid who likes to read books and doesn't like to go up a lot of stairs."
The show seems to be doing its own work in teasing that parallel out. Later in Sunday's episode, Tarly exemplifies another key Martin-ism. He takes pity on the outcast Ser Jorah Mormont, and risks his own life to cure the knight's greyscale. Martin would have likely done the same.
"I am attracted to bastards, cripples and broken things, as is reflected in the book," as Martin said at the 2014 Edinburgh international books festival. "Outcasts, second-class citizens for whatever reason. There's more drama in characters like that, more to struggle with."
Beyond that, Sam and George are both the eldest sons of their families, they both had troubled relationships with their fathers and neither is a fighter at heart. During Vietnam, Martin was granted contentious objector status and spent two years doing public relations for a law firm. If there had been a need to research the key weaknesses of an otherworldly, undead enemy, Martin may have been tasked with doing that instead.
The strength of their connection lends even more credence to a widely discussed Game of Thrones theory that Samwell Tarly is the narrator telling this story. That's why Tarly's friend Jon Snow is characterized as saintly and divine, and all of the Lannisters appear as unfeeling monsters (except Tyrion, and maybe Jaime). The show's opening sequence also features globe-like gyroscopes like those we see in the Citadel, suggesting in part that this saga has been recorded and is perhaps being actively retold there. Bradley, the actor behind Samwell, sees it that way, as he told the Hollywood Reporter in 2016:
If you take the logic of the story now, the story of Westeros and the story of the battle for the Iron Throne, it would be a book in that library. The visual motif of that is you're about to be told a story — the sense of an idea of being told a story, and people gaining that knowledge, the way Sam is absorbing knowledge in the library.
If this is all being narrated by Sam, there's one key difference between him and Martin: Sam will actually end up finishing the story this decade.
Mic has ongoing Game of Thrones coverage. Follow our main Game of Thrones hub here.