The rise of period underwear for every gender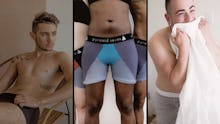 When period underwear company Thinx debuted an ad featuring a transgender man in 2015, it unknowingly blew open the doors to a conversation around who could actually benefit from period panties like theirs.
Upon Thinx's launch in 2014, the company tagline was "Underwear for Women With Periods." After facing swift criticism from people who knew that women weren't the only ones who menstruated, in came this ad featuring model and actor Sawyer DeVuyst in boyshort underwear, and a new tagline: "Underwear for People With Periods."
"A ton of people emailed us saying that women weren't the only people with periods," Miki Agrawal, Thinx's former CEO, told Mic at the time. "We were pretty struck by this, as it was something we hadn't given a lot of thought to, which is not super surprising given that there's such a lack of trans male visibility, even now."
Since then, more companies have taken note of the idea that period underwear shouldn't just be marketed toward one specific gender. In 2016, Lunapads — which has been specializing in washable pads and period underwear since 1993 — introduced its boxer brief, featuring an inner panel with leak-proof absorbency where you could place a pad or panty liner or have extra absorbency when using a tampon or diva cup.
"While our overall message has been inclusive, our product collection has lacked options for trans men and others with masculine gender identities or expressions," Lisa F., a member of the Lunapads team, wrote in a blog post in 2016. "Specifically, customers (and would-be customers) have told us that traditionally feminine cuts of underwear do not meet their needs and, for some, having no other option available made them feel less seen and valued by us.
"We were asked to add a boxer brief style to our line and were moved to do so because we knew it offered opportunities for more people to feel comfortable, confident and affirmed: exactly the experience we aim to deliver to all of our customers."
The conversation around who really needs period underwear is ongoing. The queer-owned, Chicago-based company Pyramid Seven has created a line of period underwear marketed toward no specific gender, with an array of styles to choose from in sizes XS to XL.
Its tagline? "Underwear for periods, not gender."
"Pyramid Seven came about when [co-founder] Zipporah [Jarmon] was at work reflecting on her period that had just ended," the Pyramid Seven team wrote in an email to Mic. "She was feeling pretty down on herself because she bled on her new pair of pants a few days before, and with that frustration and embarrassment she starting thinking about how she had to wear feminine underwear while on her period because there really wasn't any other options that fit her style and aesthetic."
Like the Lunapads design, Pyramid Seven's boxer briefs come with an inside panel where one could place a panty liner or pad.
"It is essential to market to people who have periods, rather than to just women, because not all women have periods, and not all people who menstruate are women," Pyramid Seven wrote. "Humans are remarkably complex; we don't fit easily into simplistic binaries. There are more than just two gender identities, and it's important that companies recognize that. If companies are only gearing their products to folks that identify as women, they are excluding whole communities from the conversation and from purchasing their product."
Judging by the website, Pyramid Seven has gotten quite the response: All of its items are currently sold out.
"Thanks to technology, people are finding like-minded individuals and folks that may identify in the same or similar ways as they do," Pyramid Seven wrote. "With this combination of forces, people who have often felt outcast or alone in their experience have been able to find a global community to amplify their voice and demand to have their needs meet. This ability to demand change, combined with a growing understanding about the complexities of sex and gender, has really set the stage for deeper conversations around menstruation."
As more companies realize that not only is opening the period conversation to people other than women a progressive one, but a financially wise one, too, you've got to wonder what the future of having a period is really going to look like.
August 8, 2017, 8:30 a.m.: This post has been updated.