'Destiny 2' Beta Extended: Bungie extends open beta's end date for additional testing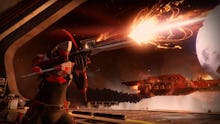 If you were upset about the Destiny 2 open beta coming to a close, we've got good news: Bungie just announced it's going to remain open for two additional days.
Here's what you need to know.
Destiny 2 open beta extended: Here's the new end date
According to Destiny 2 developer Bungie's Twitter accounts, the beta will continue for "additional service testing" through 9 p.m. Eastern on Tuesday.
However, if you didn't have a chance to play the beta during its original dates, you might be out of luck. According to Bungie's Twitter, you had to download the beta by 8 p.m. Eastern on July 23 to continue participating during its extended runtime.
To fully take advantage of the beta's last days, read up on our guide to all the available armor sets, catch up on the changes to the Crucible multiplayer mode and check out all the hidden secrets players have found in the beta so far.
More gaming news and updates
Check out the latest from Mic, like this deep dive into the cultural origins of Gamergate. Also, be sure to read this essay about what it's like to cosplay while black, a roundup of family-friendly games to play with your kids and our interview with Adi Shankar, producer of the animated Castlevania Netflix series.