Here are five ways Anthony Scaramucci has already channeled Donald Trump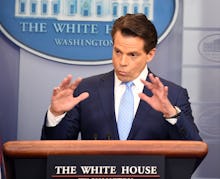 This is Mic's daily read on Donald Trump's America. Welcome to the political newsletter that wants you to know this is (theoretically) Congress' last week of work before the August recess.
What we're watching:
Today: Jared Kushner writes "I did not collude" with Russia.
More: Anthony Scaramucci is settling into his new job as White House communications director.
Even more: The health care vote is scheduled for the next few days.
Yes, more: Democrats are rolling out their new, economy-first message today.
Trump's agenda today: Meeting with Vice President Mike Pence. Hosting "victims of Obamacare." Giving a statement on health care at 3:15 p.m. Speaking at the 2017 National Scout Jamboree in Beaver, West Virginia.
How Scaramucci is channeling his boss
The new White House communications director is not the typical political spokesperson. Constantly joking, gesticulating and flashing smiles, Anthony Scaramucci is also effusive in his praise of President Donald Trump. "I love the president and I'm very, very loyal to the president," Scaramucci said Friday as he introduced himself as Trump's chief messenger.
On Sunday, Scaramucci also took cues from his boss. He promised to start firing West Wing staffers for leaking to journalists. Scaramucci dismissed past slights he had leveled at Trump. He said White House press briefings, in his personal opinion, should be on camera — but only if that's what Trump wants.
This approach is sure to please Trump. Trump again criticized leaks by singling out information that contributed to a Washington Post article published Friday. The report said Attorney General Jeff Sessions spoke with Russian ambassador Sergey Kislyak last year about Trump's presidential campaign.
But Scaramucci may find it's Trump, the man who has his loyalty, who is ultimately holding him back. Scaramucci says his top priority is connecting Trump's message to the "heartland." But Trump has not made that any easier in the the last 24 hours alone. The president has tweeted seven times, attacking his fellow Republicans twice and bringing up the Russia investigation once. Trump also characterized Washington as a "sewer," one that "begins with the fake news!"
Today's question: What do you think of the Democrats' "Better Deal" agenda? Email your thoughts to trumpsamerica@mic.com.
We're seeking your support to expand our coverage of Donald Trump. As little as a $1 a month will give you access to an exclusive group to interact with Mic journalists and grow our reporting. Learn more here.
Kushner's testimony: "I did not collude"
In 11 pages of written testimony, Trump son-in-law and top adviser Jared Kushner will tell the Senate Intelligence Committee on Monday he did not collude with Russia to influence the 2016 election. The closed-door hearing will probe Kushner's four meetings with Russian officials that he says were not improper. Kushner paints himself as a naive political operative trying to effectively advise his father-in-law's presidential campaign.
Non-testimony: Trump's eldest son, Donald Trump Jr., and Trump campaign chairman Paul Manafort will not appear before the Senate Judiciary Committee. They will be questioned privately and provide written testimony.
Also on the Russia front: The White House is supportive of a bill passed by Congress that would curtail Trump's ability to impose sanctions on Russia. Some thought it was possible Trump would veto the bipartisan legislation, with the administration lobbying against it in recent weeks.
The looming health care vote
Senate Majority Leader Mitch McConnell has moved the goalpost on health care reform many times. But the top Republican in Congress has promised a vote to open up debate on health care early this week.
The vote is procedural: Senators would decide whether to take up the House-passed health care bill for debate. If 50 senators vote yes, they could begin offering amendments to the House bill. That could go on almost indefinitely — there's a movement among Democrats to offer amendments as long as possible to permanently stall the bill.
Right now, it's unclear the Republicans even have the votes to begin debate. McConnell has said the GOP will stay into August, but this is their last scheduled week of work.
Democrats: We offer "A Better Deal"
On Monday, the nation's top Democrats will gather about 70 miles from Capitol Hill in rural Virginia to unveil their new economic agenda. "A Better Deal" will focus on advancing policies that Democrats say will reverse the concentration of wealth. Senate Minority Leader Chuck Schumer (D-N.Y.) and House Minority Leader Nancy Pelosi (D-Calif.) will announce lowering prescription drug costs, job retraining programs and breaking up big corporations as the Democrats' initial focuses.
Mic interviewed five branding experts about the new Democratic slogan. They aren't fans. Here's video of Senate Democrats pitching their "better deal."
News and insight you cannot miss:
How to still get attention in a world dominated by Trump.
"Very little attention" is being paid to the damage Republicans are doing across the government, Noam Chomsky says.
Sean Spicer said he resigned to avoid having "too many cooks in the kitchen."
White House Chief of Staff Reince Priebus has been sidelined.