'Girls Trip' made more money in one weekend in the US than 'Rough Night' did in a month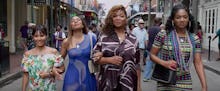 In June, critics speculated about the fates of Rough Night and Girls Trip, two films with essentially the same plot but one glaring difference: Rough Night featured a majority-white cast, while Girls Trip was majority black.
Now the receipts are in, and — as far as critics and audiences are concerned — it's not even close: Girls Trip opened Friday to rave reviews and generated $30.4 million at the domestic box office. Rough Night has been panned by critics and opened June 16 — more than a month before Girls Trip — but made $21.8 million domestically in its first month, almost $9 million less than its counterpart.
Observers have rightly pointed out that this marks yet another rebuke to the assumption that black-centered films don't perform well in the United States because white audiences don't think such movies are "for them." In fact, Girls Trip upended expectations despite less aggressive promotion from its studio. It opened in fewer than 2,600 theaters; Rough Night opened in 3,162.
The lesson seems obvious. Films centered on nonwhite people continue to find success despite the conventional wisdom. It follows that more of them should be made and promoted with the same aggression as their white counterparts.
But it's also simpler than that: If you make a good movie, audiences will often find it. Critics have described Rough Night as a waste of a talented cast, with few laughs to show for its considerable star power.
Girls Trip takes a similar concept — a group of female friends go on a weekend trip where matters get out of hand — but generates abundant laughs from its well-drawn characters and its heartfelt examination of friendship among women.
In any case, it seems Hollywood has yet to learn its lesson.