Charlie Gard's parents end legal fight to continue treatment for terminally ill son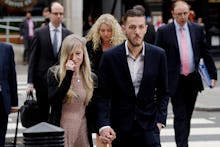 The parents of terminally ill infant Charlie Gard have ended their five-month legal battle to send the 11-month-old overseas to receive experimental treatment, the Guardian reported.
Chris Gard and Connie Yates announced their decision Monday, shortly before a high-court judge was set to hear a final case arguing for Charlie's right to undergo treatment in the United States.
The family's lawyer, Grant Armstrong, told the court that the experimental therapy is "no longer in Charlie's best interests," CBS News reported.
"For Charlie, it's too late, time has run out, irreversible muscular damage has been done and the treatment can no longer be a success," Armstrong said, according to the Guardian.
Charlie's parents allegedly decided to forego treatment for their son Friday but chose not to publicize the decision until Monday. The couple said they hoped to spend the weekend with Charlie in his final moments without the attention of the media, the Guardian reported.
Armstrong said the couple's choice to end their legal battle was "the most painful of decisions, that only parents can make," according to the Guardian.
The decision followed an examination by Dr. Michio Hirano, who flew from the U.S. to assess Charlie's condition early last week. After viewing the infant's brain scans, Hirano concluded that the experimental treatment was no longer a feasible option, the Guardian reported.
Charlie has mitochondrial DNA depletion syndrome, a rare genetic disorder that has left him unable to eat, move or breathe on his own. He is also deaf and has not developed eyesight, according to the hospital where he has received medical care.
According to a GoFundMe page organized by Charlie's parents, the infant has spent approximately nine months at London's Great Ormond Street Hospital for Children, where he's undergone a series of treatments and has remained on a ventilator.
Shortly after entering the hospital, Charlie's parents wanted to send their son to the U.S. to receive an experimental treatment, but medical professionals at GOSH said the therapy was unlikely to help due to the infant's worsening health.
Charlie's parents began their fight to send their son to the U.S. in February, when GOSH applied for the High Court to decide whether or not it was legal to fly the infant overseas for therapy. In April, the High Court ruled that it was in Charlie's best interest to forego the treatment.
The decision was upheld by both an appeals court and the U.K. Supreme Court.
The parents were expected to offer new evidence to prove the potential effectiveness of the experimental treatment in a two-day court hearing beginning Monday, but the couple's decision to end their legal fight stopped the hearing short.