'Dream Daddy' Robert Ending Guide: What you can expect after all your dates with the bad dad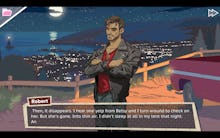 In Dream Daddy, Robert has become a fan favorite. He fits the sexy and brooding archetype that a lot of fandoms love.
There are a bunch of hot dads and storylines to fulfill — so if you're curious about Robert's ending, we've got you covered.
The last scene with Robert starts with his daughter, Val. Val explains that since Robert met you, he's been a much better father. Val thanks the main character for the positive changes in her father's personality, including ensuring that he's not neglectful, which is intense.
This is followed by a touching exchange between Val and the main character's own daughter, Amanda. Amanda compliments Val's style and Val offers to help Amanda out with a photography internship.
As the two exit, the scene ends with the player and Robert talking — Robert talks about his self-destructive tendencies and thanks the player for setting him straight (no pun intended). The final moment of the scene ends with Robert telling the player that he's not ready to be in a romantic relationship because he has some stuff to sort out — which seems to be the mature decision.
If you want to watch the scene, it starts at about 59:30 in this video.
More gaming news and updates
Check out the latest from Mic, like this deep dive into the cultural origins of Gamergate. Also, be sure to read this essay about what it's like to cosplay while black, a roundup of family-friendly games to play with your kids and our interview with Adi Shankar, producer of the animated Castlevania Netflix series.