'Splatoon 2' Gear Guide: The 2 best ways to shop for new outfits that don't involve Inkopolis' store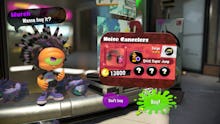 Heading into Splatoon 2, I already knew that shopping for cute gear was going the be the dangling carrot that kept feeding the "just one more match" mentality — you know, because that's how you finance all the shopping. What I did not anticipate was simply the degree to which I would become obsessed with hunting for pretend clothes.
At first, you might think that the only choices you have to outfit your beautiful squid child are the handful of stores that line the streets of Inkopolis Square. But no, that's just the beginning. There are two much better ways to shop for more gear in Splatoon 2: using the Nintendo Switch Online app, and buying the clothing right off the backs of your fellow inklings.
Here's all you need to know to become the best-dressed squid in Inkopolis.
Splatoon 2 gear: How to order clothes from the Nintendo Switch Online app
If you're playing Splatoon 2 and haven't yet downloaded the Nintendo Switch Online app, you're missing out on a whole lot of cool gear. If you navigate to the Splatoon 2 page inside the app and click the shopping bag icon in the upper-right corner, you'll be able to see a selection of gear that's totally different from what you can buy from the in-game stores.
Each item is only available for a few hours until it's replaced by another. So do your best to check in every day — or, if you're like me, every few hours — to see what's currently on sale.
If you spot something you like, simply tap the item and then click "order." Immediately thereafter, you can talk to Murch in Inkopolis Square — he's the little spiky dude to the right of the circular room at the far end of the square — and purchase the item you ordered from the app.
Splatoon 2 gear: How to order clothes other players are wearing
How many times have you passed someone on the street and thought, "Dang I wonder where they bought that cool [piece of clothing]"? Well, Splatoon 2 lets you buy nearly any item of clothing another inkling is wearing.
If you spot anyone in Inkopolis Square with a sweet shirt or hat or whatever, simply tap the "A" button near them and you'll get to look at the full breakdown of what they're wearing. If you see something you want to buy for yourself, tap "ZL" to bring up the order screen and grab whatever it is that caught your eye.
To pick up the item you've ordered, just go talk to Murch again. Murch can only order one item per day using this method, but you can build up a queue of a few items that'll trickle in over time.
Right now, I'm saving up for this dope satin jacket:
I have time for one more match, right?
More gaming news and updates
Check out the latest from Mic, like this deep dive into the cultural origins of Gamergate. Also, be sure to read this essay about what it's like to cosplay while black, a roundup of family-friendly games to play with your kids and our interview with Adi Shankar, producer of the animated Castlevania Netflix series.