Scaramucci said he wants to let Trump be Trump. Here's what that looks like 72 hours in.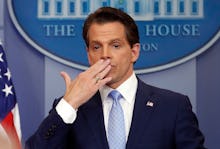 Anthony Scaramucci's tenure as White House communications director has begun — and so too has his plan to let President Donald Trump be Trump.
"I want the president to be the president and I want him to express the full nature of his personality," Scaramucci said Sunday on Fox News Sunday.
That plan is in full swing, with Trump rattling off tweets on topics that do nothing to serve his agenda — including commenting on his pardoning powers, attacking members of his own party and even publicly belittling his own attorney general.
Trump has, of course, tweeted distracting and jarring missives since he was inaugurated six months ago — including a vulgar comment about MSNBC's Mika Brzezinski, a threat to former FBI Director James Comey and a meme depicting himself physically assaulting CNN.
But since Trump announced Scaramucci as communications director roughly three days ago, the tweets seem to have grown more frequent and more angry, suggesting that his revamped communications department is increasingly comfortable with the president controlling his own messaging.
Continuing to tweet about Russia, including explosive comments about pardons and his frustration with "beleaguered" Attorney General Jeff Sessions, ensures that the media will continue to cover the Russia investigation and the palace intrigue into the dysfunction in the White House.
And that won't do anything to help accomplish his big-ticket agenda items, nor grow his floundering approval rating, which hovers just below 40% — a historic low for a president at the six-month mark of his first term.
Congressional Republicans, frustrated with having to answer for Trump's behavior, know this is true.
Politico reported Monday that Congressional Republicans are in a state of "despair" as they slowly watch the legislative calendar fly by without passing any of the major reforms both Trump and the GOP promised voters.
Soon, Congress will need to turn to dire agenda items such as raising the debt ceiling and funding the government, which will take precedent over repealing the Affordable Care Act and reforming the tax code, two of Trump and the Republican Party's biggest promises during the campaign.
And that reality has ticked off Republicans such as Rep. Mike Simpson (R-Idaho).
"I don't even pay any attention to what is going on with the administration because I don't care. They're a distraction. The family is a distraction, the president is a distraction," Simpson told Politico. "At first, it was 'Well yeah, this is the guy we elected. He'll learn, he'll learn.' And you just don't see that happening."