10th person dies after 38 found locked in sweltering tractor-trailer outside Texas Walmart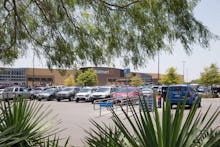 A tenth person found locked inside a tractor-trailer outside a Walmart in San Antonio, has been pronounced dead from injuries sustained by the sweltering heat inside the vehicle, Reuters reported, citing the Justice Department.
San Antonio police responded early Sunday to a call from a Walmart employee who told authorities they heard a desperate cry for water coming from inside the vehicle, which was located on a lot outside the megastore.
Authorities found approximately 38 people inside. Of those 38, eight were pronounced dead at the scene and 30 were rushed to the hospital in critical or serious condition.
According to the Los Angeles Times, a ninth person died at the hospital Sunday. Monday's death is the second to occur from those found injured at the scene, bringing the total death toll to 10 as of press time.
Authorities called the incident a "horrific tragedy," and claim it is the result of a "human trafficking crime." The Washington Post reported that authorities believe the deaths and injuries to be the fatal conclusion of an immigrant smuggling operation.
"All were victims of ruthless human smugglers indifferent to the well-being of their fragile cargo," Richard L. Durbin Jr., a federal attorney, said. "The South Texas heat is punishing this time of year. These people were helpless in the hands of their transporters. Imagine their suffering, trapped in a stifling trailer in 100-plus degree heat."
On Saturday, the local temperature in San Antonio hit a high of 100 degrees.
Thomas Homan, acting director of Immigration and Customs Enforcement, said the "horrific crime" affirmed his agency's commitment to ending human smuggling.
"By any standard, the horrific crime uncovered last night ranks as a stark reminder of why human smuggling networks must be pursued, caught and punished," Homan said in a statement. "So long as I lead ICE, there will be an unwavering commitment to use law enforcement assets to put an end to these practices."
Human rights activists criticized law enforcement for ramping up border control, which they argue creates the conditions that lead people to risk their lives to enter the United States.
"People are in the hands of smugglers because they are attempting to seek refuge and to find a better life in this country, and our Border Patrol is actively turning away asylum seekers," Amy Fischer, policy director at the Refugee and Immigrant Center for Education and Legal Services, said to the LA Times. "The Trump administration and [Texas Gov. Greg Abbott] have to be held to task. They, in fact, have blood on their hands for creating the kind of situation that allows these tragedies to happen."
The incident is harrowingly similar to a 2003 case where 19 immigrants died from fatal heat in a vehicle as the result of a human trafficking operation across the South Texas border.
According to Reuters, the suspected driver of the vehicle, 60-year-old James Mathew Bradley Jr. of Clearwater, Florida, was arrested by law enforcement Sunday. He will appear in court Monday.