'Dream Daddy' Joseph Ending: One of the dads might be in a secret cult — and it's messy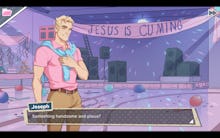 Dream Daddy is a game about romancing and dating various hot single dads. However, there's apparently one ending that changes the dynamic of the game completely.
One of the dads, Joseph, seems to have a secret ending that reveals that he's in a cult. In the scene's dialogue, Joseph reveals that he is the reason for all the single dads — because he killed all of the wives. Joseph seems to have gone a bit off the deep end:
"I told you, I'm a cool youth minister. Have you seen my tattoos? Were you even watching me tear it up on the dance floor?  Well, hi. My name is Joseph. I have an alcoholic whore wife, whose life I destroyed. You used to be a lot more fun."
The text either reads as something that's trying to be light-hearted or something that's genuinely scary — it's hard to pin it down. Some fans don't mind the ending, as they think the game does enough for positive representation. For example, jangdadwoo thinks that one bad apple doesn't eliminate the good representation the game has done for trans people and men of color.
However, it seems a lot of fans on Twitter think this story implies manipulation towards the male characters and perpetuates the stereotype of queer men being predatory towards straight men.
It's yet to be seen if these scenes actually exist in the game because as of now, they've only been obtained through data mining the game files. It'll be interesting to see if the developers respond in any official capacity.
More gaming news and updates
Check out the latest from Mic, like this deep dive into the cultural origins of Gamergate. Also, be sure to read this essay about what it's like to cosplay while black, a roundup of family-friendly games to play with your kids and our interview with Adi Shankar, producer of the animated Castlevania Netflix series.