Driver charged with human trafficking after 30-40 people found locked in fatally hot tractor-trailer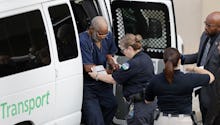 On Monday, federal authorities charged James Matthew Bradley with human trafficking, according to the Associated Press. According to the complaint, Bradley is the driver of a tractor-trailer in which 30-40 people were found trapped in fatal, sweltering heat.
The federal complaint alleges Bradley smuggled those people across the U.S.-Mexico border for "commercial advantage or private financial gain."
According to the AP, the charge against Bradley may carry a punishment as severe as the death penalty.
The tractor-trailer was discovered early Sunday by a Walmart employee in San Antonio, after a man inside was heard crying for water. According to the AP, at least 10 have died and at least 15 have been rushed to the hospital experiencing extreme dehydration and heat stroke.
According to the Los Angeles Times, one person died at the hospital Sunday, and another died Monday according to Reuters, bringing the death toll up to 10. The AP reported that authorities expect that number to rise due to the nature of the injuries sustained from the sweltering heat.
Bradley will appear in court in San Antonio on Monday.