'Splatoon 2' Ticket Locations: How to purchase Crusty Sean's food truck snacks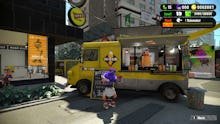 Parked toward the front of Inkopolis Square sits a food truck. It isn't an ordinary food truck. It's Crusty Sean's food truck. His tasty snacks provide special abilities, money-earning bonuses and experience bonuses, depending on what you eat. But hey, it's not free. You'll need meal tickets to eat at Crusty Sean's.
If you're not sure where to get tickets, you aren't alone. They're a bit tricky to locate, if you don't know where to start looking.
Splatoon 2 Ticket Locations: The best sources for tickets and how to earn them
According to GameSkinny, you can earn bonus orbs, the source of meal tickets, in the single player Hero mode, but it isn't all that effective. For the best chance at earning meal tickets, dive into Salmon Run, which is a multiplayer co-op mode located toward the back of Inkopolis.
Completing Salmon Run matches will unlock bonus orbs. Turning in the bonus orbs at the end of a match will net you a variety of rewards. To cash in bonus orbs (and locate your sweet, sweet meal tickets), head to the left of the Salmon Run entrance, where you can "ask for a bonus."
You can hold 8 bonus orbs at a time, so make sure you cash them in before you head back into Salmon Run. The most common reward in the bonus orbs is a meal ticket, so you'll be much more likely to see a meal ticket than anything else when you cash in your orbs.
Once you have your meal tickets, you can head back to Crusty Sean's and purchase those tasty, fishy delights.
More Splatoon coverage
Read more of our Splatoon news and coverage, including our impressions of the open beta back in March and at the Nintendo Switch event in January. Find out everything we learned about the game back in January. If you're looking for more information about the April 2017 Nintendo Direct, check out the proceedings here. Or if you want to check out general Nintendo Switch news see reports of screen defects in the Switch and what you can expect if you're trying to buy one.