This child kept HIV in remission for 8 years without drugs. Here's what that really means.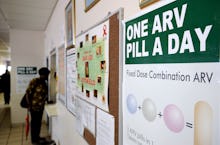 A 9-year-old child in South Africa has made history by becoming the first reported case in Africa — and the third globally — of a child controlling their HIV infection for years without drugs, CNN reported Monday.
The child's case is exceedingly rare — so rare, in fact, that at least one researcher said it may not tell us anything new about HIV and AIDS treatment.
The child in question was diagnosed with HIV at 1 month old, after which they were given antiretroviral treatment, called ART, for 40 weeks, according to CNN.
After that, doctors checked their health regularly as part of a larger study to see whether early ART could "reduce the need for lifelong treatment among newborns infected with HIV."
On average, children in the clinical trial who received early ART had to resume treatment after two years, Dr. Avy Violari, head of pediatric clinical trials at the Perinatal HIV Research Unit at the University of Witwatersrand in South Africa, told CNN. Roughly 10 children in the study have viral loads low enough that they haven't had to go back on treatment — but viral loads were undetectable in the case of one child, meaning this child has been in remission for more than eight years after receiving early ART as an infant.
"The child is the only child showing remission," Violari said. "We cannot see virus in the blood using standard techniques ... we can see fragments of the virus in the cells. This child is unique."
While this case may be remarkable, its singularity could potentially mean it's too rare to have greater significance — at least according to Dr. Stacey Rizza, an infectious disease specialist and chair of the HIV clinic at the Mayo Clinic.
"We kind of knew this was possible," Rizza said in a phone call Monday. "It's just very rare when it happens so well and for so long."
There have been two other examples of early, limited treatment leading to outcomes like the one seen in this child, Rizza said, including the case of a baby in Mississippi who received treatment just hours after birth and later went into remission for 27 months. However, those cases are "unusual for several reasons," Rizza said.
One reason is that it's difficult for individuals with HIV to receive treatment quickly enough after infection, whether they're infants or adults, Rizza said. Another difficulty is that "nobody knows" what makes the few cases of long-term remission possible, though it's likely due to a combination of factors, including "something unique and special" in their immune systems, Rizza added.
However, other scientists are more optimistic about what this new case could mean for the future. Dr. Paul Sato, who works at the Office of AIDS Research at the National Institutes of Health — which helped to fund the study in South Africa — told Mic via email that "further and continued study of this case will provide important clues about what makes some people better able to suppress HIV in the absence of continued suppressive ART."
Rizza said cases like the child in South Africa are "interesting" and worthy of study, but still unclear at this point.
"So far there's no one magic bullet," Rizza said. The greater hope for treating HIV is in new medicines that would destroy only the infected cells, along with strong public health initiatives that help everyone access treatment for HIV, she added. In an ideal world, this could have a dramatic effect.
"If every human on the planet who was infected were on HIV treatment, it would be gone in one generation," Rizza said.