'NBA 2K18' Screenshots: Isaiah Thomas, DeMar DeRozan and Paul George featured in new in-game images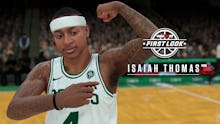 2K Sports released the first in-game look at the upcoming NBA 2K18 on Monday. The first in-game screenshots show off DeMar DeRozan, Paul George and Isaiah Thomas in the upcoming title.
Take a look at the three players in NBA 2K18 in the images below:
NBA 2K18 screenshots: Three big takeaways
You can clearly see the Nike logos on all three players' jerseys. Nike will be producing all of the uniforms for NBA teams in real life, and that will also be reflected in any video games with the official NBA license.
Also noticeable on DeRozan and Thomas' jerseys are the new corporate ads that will be added to some NBA uniforms.
As Operation Sports' Steve Noah points out, you can see the Sun Life and General Electric logos pretty clearly.
Lastly, fans of the series might also notice the more slender builds on the players. Last year, the player models were a little too thick in most cases.
The thinner and sleeker models are more realistic because they look more like the actual players from head to toe.
NBA 2K18 screenshots: What's next?
Now that we've seen our first in-game screens, it seems logical to expect information on game modes and features. That information could come as soon as this week.
Usually, 2K gives us information about MyGM and MyLeague first, but things can always change. Be on the lookout for the next piece of intel as we rapidly approach the Sept. 19 release date.
More sports gaming news and updates
Love sports games? Check out more content from Mic, including tips for leveling up your NBA 2K17 MyPlayer, playing quarterback in Madden 17, our review of MLB The Show 17 and the classic Nintendo sports games we want to see on the Switch.