'Overwatch' Doomfist Cosplay: How the amazing official costume from Comic-Con came to life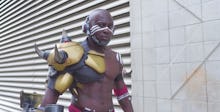 At this year's San Diego Comic-Con, Overwatch's newest character, Doomfist — set to release on July 27 — made his debut appearance. Well, not the real Doomfist, of course, but a very talented model dressed head-to-fist-to-toe in some incredibly crafted cosplay.
Jordan Duncan from Henchmen Studios — the company responsible for making Blizzard's official real-life Doomfist — took a break from the hubbub of the Comic-Con show floor to speak with Mic and break down how it came together.
Doomfist's gauntlet is made from "over 60 pieces"
Before anything gets printed, Duncan said Henchmen Studios has to replicate everything in 3-D modeling software, working from the in-game models and other reference drawings.
"From there, it's just figuring out how you break it down into separate pieces, how you mount all those pieces together," Duncan said. "And once you have that system down, we'll start 3-D printing it piece by piece."
And there are a lot of pieces to print. According to Duncan, the gauntlet alone consists of "over 60" separate components, weighing in at over 15 pounds once everything is assembled.
In order to make sure everything would fit on their model, cosplayer Caviar Blue, Henchmen took casts of nearly his entire body and to use as a reference when it was shaping the more tight-fitting pieces.
So, how did fans react upon seeing Doomfist in the flesh on the show floor?
"A lot of fist bumps," Duncan said.
Check out the gallery below from the Henchmen Studios Instagram account to see pictures of the whole thing coming together:
More Overwatch news and updates
For more on Overwatch, check out the rest of what Mic has to offer. Here is an intro to the cute new "Wholesome Overwatch" subreddit, a look at some gorgeous Overwatch-themed PS4 and Xbox One controllers, a cool Easter egg in the new Horizon Lunar Colony map and a criticism of Blizzard's failures in its design of Symmetra.