This baker is freeing the world from the tyranny of choice, one pink cupcake at a time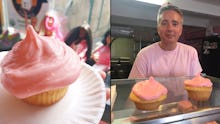 When you walk into ScottCakes in Provincetown, Massachusetts, it's easy to be overwhelmed by the flamingo pink walls, a Barbie Doll display and busy wall of art and t-shirts for sale. But one aspect of the bakery is completely straightforward. There's no menu, because the only thing you can order here is a pink cupcake.
ScottCakes are golden vanilla cupcakes topped with buttercream frosting, which, according to owner Scott Cunningham, are made with "butter, love, magic, pink, a little bit of medical grade methamphetamine and we're done." He's joking about the meth, but there's no arguing his cupcakes are addictive: In my 30 minutes at the shop, a woman came in to buy four containers of buttercream and at least 100 cupcakes were sold.
In 2017, the concept of a single-item, single-flavor shop is practically novel. Consumers are faced with copious choices around food: Customization is much of the draw of frozen yogurt shops with endless toppings, salad bars with 50-plus ingredients and the many restaurants with so-called secret menus.
For Americans, what we eat defines who we are. Selling just one flavor of cupcakes? "It's so retro that it's futuristic or something," Cunningham said. He likens the experience to eating at a relative's house. "When you went to Grandma's, Grandma made what she made and you were psyched. It's a big part of it, and the people who come back have such a strong loyalty to [this comfort]."
The store owner said many are initially thrown by the pink cupcake, whether they claim to be more of a "chocolate person" or not a "cupcake person" at all. But when Cunningham starts a conversation with reluctant customers and gets them to take a bite, they're usually able to relinquish their notions and just enjoy what they're eating.
Choosing how and where to spend your money — to vacation in Provincetown, to spend time on lively Commercial Street, to walk into a sliver of a storefront — can be paralyzing. The lack of choice at ScottCakes feels like finally getting a seat on a packed subway when you're lugging a bag equal to your body weight. It's a sweet relief you don't fully appreciate until you're experiencing it.
Cunningham, who has a background in acting, began his foray into the professional cupcake business at age 40, when he acquired a pushcart license and hawked about 120 of his now-famous cupcakes six nights a week on a corner of Commercial Street. "The real story is I asked the universe for my big success — I'd been doing a lot of meditation, it's so still here [in Cape Cod] in the off-season," he said. "I thought I might get a phone call from my manager that maybe I was up for a TV show — but what came was ... ScottCakes."
Really, Cunningham insists the idea came to him. "It was an instant thought," he said. He would sell pink cupcakes. On opening night, he wore short cutoffs, a tank top and caught the attention of many pedestrians happy to be tempted by an after-dinner sweet. "I was a 40-year-old man dressed like a 9-year-old girl on a street corner with a tray of cupcakes," Cunningham said. At the start of Bear Week in 2009, he set up a card table and peddled his cupcakes until they sold out.
After his first successful season, Cunningham earned his reputation as "the Pink Cupcake Guy," and for many, his product ritualized summers in Cape Cod. With a few more seasons under his belt, Cunningham soon went from "Pink Cupcake Guy" to "the Controversial Cupcake King of Commercial Street" after facing some trouble with his permit and the city. With some hounding from his dedicated clients, Cunningham opened his brick-and-mortar spot.
"For me, it's not about the cupcakes, it's about that connectivity, like everyone is connected," Cunningham said, reveling in the fact that everyone who's eaten a ScottCake has eaten the same thing. He believes it's the reason why people come back year after year for a dozen — or two or three — ScottCakes. It's why couples demand ScottCakes at their wedding (yes, he'll ship them) and why the store sells around 700 cute desserts each day. So while he's open to whatever opportunity comes his way next, Cunningham said ScottCakes will always and only serve its iconic pink cupcake.
"If I added more, it would be diluting the brand," he said. "A big reason [why people know about us] is word of mouth, and the big part of it is, 'and there's just one kind!'"